Tesla employees shared sensitive images recorded by cars – Reuters
Some pictures were turned into memes and distributed through internal chats, former workers told the agency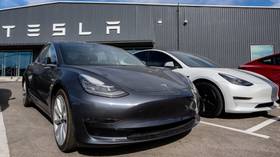 Tesla workers shared "highly invasive" images and videos recorded by customers' electric cars, making fun of them in internal chat groups, several former employees of Elon Musk's company have told Reuters.
The electric-car manufacturer obtains consent from its clients to collect data from vehicles in order to improve its self-driving technology. However, the company assures owners that the whole system is "designed from the ground up to protect your privacy," the agency pointed out in its report on Thursday.
According to nine former workers who talked to the agency, groups of employees shared private footage of customers in Tesla's internal one-on-one chats between 2019 and 2022.
One of the clips in question captured a man approaching his electric car while he was completely naked, one of the sources said.
Others featured crashes and road-rage incidents. One particular video of a Tesla hitting a child on a bike in a residential area spread around the company's office in San Mateo, California "like wildfire," an ex-employee claimed.
"I'm bothered by it because the people who buy the car, I don't think they know that their privacy is, like, not respected… We could see them doing laundry and really intimate things. We could see their kids," another former worker told the agency.
Seven former employees also told Reuters that the software they used at work allowed them to see the location where the photo or video was made, despite Tesla assuring its customers that "camera recordings remain anonymous and are not linked to you or your vehicle."
The agency noted that it could not obtain any of the pictures or clips described by its sources, who said they were all deleted. Some former employees also told the journalists that they had only seen private data being shared for legitimate purposes, such as seeking assistance for colleagues. Tesla did not respond when approached for comment on the issue by Reuters.
You can share this story on social media: