Tesla recalls over 360,000 cars over self-driving threat
The Full Self-Driving Beta software could cause a crash by failing to stop in risky circumstances, regulators said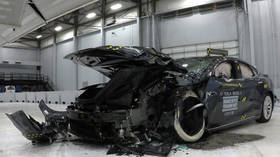 Electric car maker Tesla is recalling 362,758 vehicles due to potentially fatal glitches in its Full Self-Driving Beta software, the National Highway Transportation Safety Administration revealed on Thursday. The system reportedly "allows a vehicle to exceed speed limits or travel through intersections in an unlawful or unpredictable manner" that "increases the risk of a crash."
The faulty software could allow the car to pass through an intersection in a turn-only lane, fail to stop at a stop sign, or plunge into an intersection despite a yellow caution signal, the regulator explained, adding that the system might also "respond insufficiently to changes in posted speed limits or not adequately account for the driver's adjustment of the vehicle's speed to exceed posted speed limits."
Cars affected by the recall include Model S, Model X, Model 3, and Model Y – the entirety of Tesla's current offerings – made between 2016 and 2023 and equipped with Full Self-Driving Beta.
CEO Elon Musk frowned on the use of the word "recall," however, noting that users of affected vehicles will receive free software fixes "over-the-air" – i.e. wirelessly – starting in April and need not physically return their cars to the dealership as in a traditional recall. The carmaker insists it is not aware of any deaths or injuries resulting from its self-driving software.
The issues were uncovered during testing of Tesla's Full Self-Driving software, which the carmaker has in the past admitted will probably never be able to truly pilot the pricey vehicles itself. Car safety crusader Ralph Nader last year urged Tesla to pull the tech from its vehicles, and the California Department of Motor Vehicles has complained Tesla is misleading customers by claiming its cars can actually drive themselves.
Even the significantly pared-back version of Full Self-Driving known as Autopilot has been implicated in several accidents, according to the NHTSA, which found at least 16 crashes in which Teslas had switched off Autopilot a second before plowing into stationary objects that would have been identifiable by a human driver with plenty of time to steer out of the way.
You can share this story on social media: