Scholz faces tax fraud probe
The German chancellor will be investigated for allegedly helping a bank hold onto millions of ill-gotten euros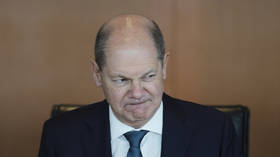 German Chancellor Olaf Scholz will be investigated by parliament for his alleged role in helping the Hamburg-based Warburg Bank avoid repaying $48 million in illegal tax refunds. Scholz has already been probed for his possible links to the affair, and his party insists the latest investigation is politically-motivated.
"We will request a parliamentary committee of inquiry into the Scholz-Warburg tax affair in the German Bundestag in the first parliamentary week after the Easter vacations," lawmaker Mathias Middelberg of the CDU party said at a press conference on Tuesday. Together with leftist opponents of Scholz, the center-right party has the majority needed to initiate such an investigation.
Scholz has already been questioned by the Hamburg state parliament twice about the affair, and is expected to be summoned back before the regional legislature at some point this spring, Politico reported.
Opposition politicians claim that Scholz used his political influence to persuade Hamburg state authorities to abandon their attempts to claim back €47 million ($48.2 million) in taxes from Warburg Bank in 2016. Scholz was serving as the city's mayor at the time, and met in private with Warburg officials on three separate occasions before the state stopped its pursuit of the money.
Scholz' ties to the scandal surfaced during his 2021 election campaign, but the Social Democrat (SPD) chancellor denied any involvement. He has already been questioned over these meetings, but Middelberg told reporters that the latest probe will examine whether his statements of non-involvement were "believable."
According to a CDU letter seen by Politico, the party recently learned that Scholz readily recounted his meetings with the bank in front of one investigative committee, before claiming to have no recollection in front of others.
"This comprehensive memory gap of the chancellor after an initial memory of a concrete meeting … raises a multitude of questions to be clarified," the letter reportedly states.
The so-called 'cum-ex' scandal was a Europe-wide scheme involving more than a dozen banks and numerous traders and companies who lent each other shares, then falsely reported paying tax on these transfers in order to claim back tax refunds from at least 11 European governments. The German government lost around $30 billion in the scheme, which it has worked to reclaim since the scandal came to light in 2017.
Scholz's party views the probe as politically motivated. In a Twitter post on Tuesday, SPD chief whip Katja Mast declared that the CDU "is not interested in knowledge, but party tactics," accusing the party of "making claims that have long since been refuted."
You can share this story on social media: