EU's largest party raided by cops
Officers stormed the headquarters of the center-right European People's Party in Brussels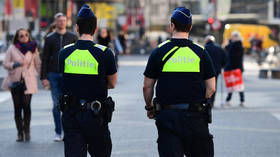 Belgian and German police officers raided the headquarters of the European People's Party (EPP) in Brussels on Tuesday over an ongoing corruption inquiry in Germany, the party said in a statement.
The search "is connected to an ongoing inquiry in Thuringia, Germany," the statement read. "The party is cooperating in full transparency with the authorities involved, providing all relevant information and documentation," it added.
The party said that it would provide no further comment, as the police visit was in relation to "an ongoing legal investigation."
The Euractiv news site reported that computers were seized during the raid, and that the investigation is focused on Mario Voigt, the leader of the CDU political party in Thuringia. Voigt was hired to run the EPP's digital election campaign in 2019, and allegedly contracted some work out to an internet firm in Thuringia in exchange for a bribe, according to German media reports.
An EPP official confirmed to Politico that the German-Belgian investigation concerns an "issue between a contractor who worked for the EPP during the 2019 campaign and one of his subcontractors in Germany."
Founded in 1976, the EPP is a transnational coalition of center-right and Christian-democratic parties from across the EU, including Germany's CDU, France's Republicans, and Ireland's Fine Gael. European Commission President Ursula von der Leyen and European Parliament President Roberta Metsola are members, and the EPP has been the largest party in the European Parliament since 1999.
Voigt's alleged corruption is one of multiple stories of graft to emerge from the EU Parliament in recent months. Shortly after German media outlets began reporting on the police probe into her campaign work last September, the legislature's vice president, Eva Kaili, was arrested by Belgian police over allegedly taking bribes from Qatari officials. She has since been stripped of her role and is currently imprisoned as she awaits trial for corruption and money laundering.
You can share this story on social media: