Ex-Polish FM lambasts 'corruption' in EU parliament
The legislative body will do nothing about the problem due to its global ambitions, Witold Waszczykowski claims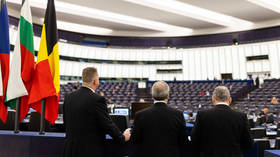 The EU parliament has failed to take meaningful measures to tackle corruption within its ranks, Polish MEP Witold Waszczykowski said on Wednesday in the wake of December's Qatar bribery scandal. He made the comments after a parliamentary session on the topic of corruption.
Waszczykowski, who is a former Polish foreign minister, claimed that the root cause of corruption lies within the parliament's ambition to serve as an ideological arbiter of the world.
"The debate was routine and minimalistic," he said, referring to the meeting on Wednesday. The measures announced were only "cosmetic" and put some minor restrictions on MEPs, he added.
"All the things that really generate massive corruption – [MEPs'] extensive trips and attempts at ideological oversight of the world – will remain [unaddressed]," the Polish politician said. The European Parliament can influence the opinions of investors, rating agencies and international bodies around the world through its resolutions, including on issues outside the EU, Waszczykowski said, explaining that this creates fertile ground for lobbying and corruption.
"The unbridled activity of the European Parliament should be stopped. It should focus on Europe and abandon the ambition of overseeing the whole world," he continued, warning that the Qatar scandal last year was just the "tip of an iceberg."
In December 2022, the EU parliament was rocked by a major scandal, which saw its then vice president, Eva Kaili, and several other suspects arrested. Kaili, her husband Francesco Giorgi, and former Italian MEP Antonio Panzeri were charged with "participation in a criminal organization, money laundering, and corruption."
The MEPs allegedly engaged in illicit lobbying on behalf of the Qatari government in exchange for millions of euro in cash and gifts. Doha allegedly sought to improve its human rights reputation through lobbying in the face of global coverage of workers' rights in the country ahead of the FIFA World Cup, which Qatar hosted. According to the Italian media, as many as 60 current and former MEPs may have been involved in the scheme.
In the wake of the scandal, the parliament halted all lobbying work related to Qatar. Doha denied any wrongdoing and blasted the decision as "discriminatory."
You can share this story on social media: