France to hike military reservist age – defense minister
Certain types of personnel will be able to serve until the age of 72, Sebastien Lecornu has announced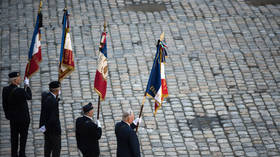 France is set to raise the maximum age for military reservists to 70, with "certain specialists" allowed to stay on until the age of 72, Defense Minister Sebastien Lecornu has announced.
The official unveiled the impending hike during an interview with French broadcaster RTL on Tuesday. "A lot of people of quality find themselves ejected because of this age limit, which makes no sense," the minister explained.
"We will increase the age limits... People will be able to be a reservist in the French military until they are 70 years old and until they are 72 years old for certain specialists," Lecornu stated.
The current maximum age is between 60 and 65 depending on a reservist's role. In addition to significantly increasing the age limit, France also seeks to double its reservist force from the current 40,000 to 80,000.
The overhaul of the reservist force, a pool of trained soldiers eligible for call-up if necessary, comes as France is set to gradually increase its military spending – from €43.9 billion this year to €69 billion by 2030. The spending hike on defense is needed for France to "remain in the club of nations able to defend themselves" and to tackle various "threats," including those stemming from the ongoing hostilities between Russia and Ukraine, Lecornu explained.
"There are several objectives with this unprecedented budget package: to continue to repair what has been damaged, a certain number of budget cuts have affected our army model…and we have a succession of threats that are all adding up," he said.
The announcement of the age hike for reservists comes amid continuing unrest over a pension reform that increases the retirement age in France by two years, from 62 to 64. The measure itself, combined with President Emmanuel Macron's decision to push the reform through without a full legislative procedure, has proven unpopular, triggering strikes, mass protests, and widespread violence across the country.
You can share this story on social media: