French minister in hot water over Playboy interview – media 
PM Elisabeth Borne reportedly said an official being featured in the magazine was "not appropriate," given the social unrest in the country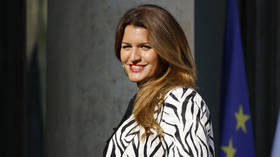 French Prime Minister Elisabeth Borne has reprimanded Marlene Schiappa, the secretary of state for social economy, for giving an interview to the magazine Playboy, several French media outlets reported on Saturday, citing a source close to the PM.
Borne reportedly spoke to Schiappa over the phone and told her that the interview was "not at all appropriate, especially at this moment." France has been gripped for weeks by protests and strikes over a controversial pension reform pushed by the government. Some demonstrations have led to clashes with police.
Schiappa, who previously served as equality minister, appeared on the cover of the magazine's French edition, whose new issue is set to hit newsstands on Thursday. According to Schiappa's office, the 12-page interview "focuses mainly on women's freedom but also on feminism, politics and literature." The office added that the minister is dressed in all of the photos.
Schiappa said on Saturday that she was "defending the right of women to do what they want with their bodies."
"In France, women are free. No matter what retrogrades and hypocrites say," she wrote on Twitter.
🟩 Marlène Schiappa, secrétaire d'État à l'Économie sociale et solidaire, en une de Playboy.Entre expression de liberté sexuelle et honte totale pour le gouvernement, les avis divergent.Qu'en pensez-vous ?Merci pour vos suivis, soutenez un média libre 📰 pic.twitter.com/8ASVCyaZvk

— Nous sommes RT France 📰 (@AvecRTFrance2) April 1, 2023
Playboy was founded in the US in 1953 as a men's lifestyle magazine known for nude and erotic photos of women, but also for its interviews with famous people and general articles.
You can share this story on social media: