Ukraine given EU and NATO membership ultimatum
Kiev can't join either bloc unless it respects Hungarian minority rights, Budapest insists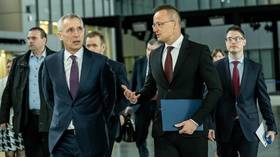 Ukraine will not be allowed to join the EU or NATO until it restores the rights of ethnic Hungarians living in its Transcarpathian Region, Hungary's Foreign Minister Peter Szijjarto, warned on Tuesday.
Speaking at a press conference in Brussels, Szijjarto added that the US-led military bloc was violating its own rules by pushing ahead with a set of meetings involving Kiev's officials, despite his government's objections.
"I would like to say that we will not support any significant integration movement of Ukraine towards the EU or NATO until the rights of the Hungarian ethnic community that it had prior to 2015 are restored in Ukraine," the foreign minister told reporters.
Around 150,000 ethnic Hungarians live in modern Ukraine's Transcarpathian Region, just across the border from Hungary. Budapest will not give up on them "under any circumstances," despite pressure from both sides of the Atlantic to do so, Szijjarto added.
He also objected to the convening of the NATO-Ukraine Committee on ministerial level despite Budapest's objections.
"This decision violates NATO's unity and procedures for the unity of will," Hungarian government spokesman Zoltan Kovacs said on Tuesday, referring to the bloc's consensus requirement.
Szijjarto has voiced his objections to NATO Secretary General Jens Stoltenberg, but agreed to attend the April 4 meeting for the "opportunity to discuss minority protections."
Hungary became a member of NATO in 1999 and joined the EU in 2004. In recent months, Brussels has withheld funding from Budapest in an attempt to compel the government of Prime Minister Viktor Orban to implement a set of policies championed by the bloc, which he has rejected as harmful.
Hungary has consistently argued for a negotiated end to the hostilities in Ukraine. Budapest continues to prohibit any transit of weapons or ammunition through Hungarian territory, and has not agreed to supply Kiev with arms or ammunition.
You can share this story on social media: