NATO and EU states already parties to Ukraine conflict – top Hungarian MP
Military aid provided by members of both blocs makes them participants in the hostilities, the parliamentary speaker said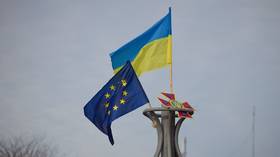 Massive deliveries of military aid to Ukraine have made multiple NATO and EU nations parties to the ongoing conflict between Moscow and Kiev, according to Laszlo Kover, the speaker of Hungary's National Assembly.
Speaking to Hir TV late on Friday, Kover said certain members of the two blocs are already participants in the conflict, despite not "yet" actually engaging in the fighting themselves. He did not identify the countries to which he was referring.
"Members of NATO and the EU have already sent almost $60 billion worth of lethal military equipment to Ukraine, one of the warring parties. This means that individual countries – members of the European Union and NATO – are participants of this war, although not yet fighting," he said.
The speaker also shared his opinion on the potential accession of Finland and Sweden to NATO.
While the move has already been approved by the vast majority of member states in the US-led military alliance, it has been opposed by Hungary and Türkiye. Budapest is expected to dispatch a delegation to the two Nordic nations shortly in an effort to resolve differences regarding the accession bids, Kover noted.
Both Finland and Sweden have caused "damage" to Hungary, repeatedly making hostile moves against Budapest within the EU, he continued.
"They cause specific, measurable damage to Hungary's national interests. These people are putting pressure on the European institutions so that they do not allocate the EU funds due to Hungary. This is about specific damage, not just that our souls are sensitive," Kover explained.
He also claimed that their potential accession to NATO would not increase the "sense of security" within the bloc, but rather yield the opposite result, greatly extending the alliance's border with Russia.
Earlier this week, Hungarian Prime Minister Viktor Orban called for the creation of a "European NATO," arguing that America's desire to further expand its its influence has led to the current tensions between the West and Russia. The EU needs to create a military bloc of its own to become free of American influence and stop doing Washington's bidding, Orban suggested.
Hungary has repeatedly called for peace since the outbreak of conflict between Moscow and Kiev, criticizing both the Western sanctions imposed on Russia and the continuous flow of arms to Ukraine. Budapest has also been the only NATO nation to voice support for China's recently unveiled peace plan for Ukraine.
You can share this story on social media: