EU's solutions for Ukraine don't work – member state
The only way to end the conflict in Ukraine is through a ceasefire, the Hungarian foreign minister has insisted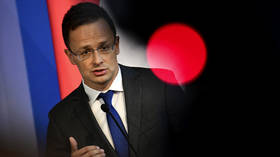 The first step in bringing peace to Ukraine should be to stop people from being killed and establish a ceasefire as soon as possible, Hungarian Foreign Minister Peter Szijjarto said on Sunday, during an interview with Sweden's SVT.
The diplomat dismissed the idea of supplying Ukraine with weapons, currently being done by a number of NATO countries, as a viable method to achieve peace. Asked why Hungary refuses to send weapons to Kiev, Szijjarto pointed to the devastating consequences of the war, and how Western arms have only exacerbated the conflict.
"Look at the infrastructure, look at the people, look at the number of people leaving the country, look at their former houses, look at the damage, the energy infrastructure. This country is being demolished, destroyed. I don't think that would be of interest to anyone," he said.
Szijjarto stated that Hungary, as opposed to other European countries, sees the first priority in the Ukrainian conflict as being to "stop killing people," and suggested that the only way to achieve that is to enter discussions that would hopefully lead to a sustainable peace agreement.
He also noted that the solutions that were being offered in Europe "simply did not work" because everyone is too invested into the "war psyche." As for sanctions, the minister pointed out that they have also failed to achieve an effect.
"We have introduced packages of sanctions already. Did it bring us any closer to a solution? No. Did it make the war less brutal? No. Did it put Russia on its knees? No. Did it hurt us? Yes."
Szijjarto's comments come after NATO Secretary General Jens Stoltenberg stated last month that "the only way" to guarantee a "lasting and just peace" in Ukraine was to continue to provide Kiev with military support.
Moscow, however, has repeatedly blasted Western arms shipments to Ukraine, arguing that it only serves to prolong the conflict and is essentially making NATO countries participants in the now one-year-long conflict. Last month, Russian Defense Minister Sergey Shoigu warned that if Kiev receives long-range weapons from the West, Moscow will be forced to "push the threat away" from Russia's borders even further.
You can share this story on social media: