Hungary outlines flaws with arms shipments to Ukraine
Neither weapons deliveries nor sanctions help to save people's lives, Foreign Minister Peter Szijjarto said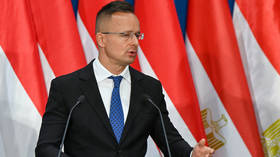 Western sanctions on Russia and military support for Kiev will achieve nothing in terms of ending the Ukraine conflict, Hungarian Foreign Minister Peter Szijjarto claimed on Monday.
Speaking to RIA Novosti, he stated that the main duty of the international community must be saving people's lives.
Szijjarto said this goal could not be achieved by sanctions or weapons shipments, but only by reaching a peace settlement, reiterating Hungary's long-standing position that Moscow and Kiev should agree to an immediate ceasefire.
The foreign minister went on to lament that not everybody agrees with this line of thinking. He described it as deplorable that, when somebody stands for peace, they are immediately branded as a Russian supporter.
Szijjarto stressed that Budapest is not on the side of the Russians, but is rather on the side of peace, because it does not want more people to die. He said rational dialogue on resolving the Ukraine conflict could yield some results, but current conditions made the chances of a peaceful settlement unlikely.
The minister also suggested that the EU would try to introduce new sanctions on Russia, which would target Moscow's nuclear industry. However, he signaled that this is "something we would never agree with."
"This is something that we will definitely veto in case such points are being included into any kind of sanction measure," he added.
On Saturday, the EU unveiled its tenth sanctions package against Russia, which took aim at the nation's banking sector, as well as its access to dual-use and advanced technologies. It also expanded the blacklist of entities that allegedly support Moscow's military operation.
Hungary, which is heavily dependent on Russian energy, has consistently spoken out against Western restrictions on Moscow, arguing that they have failed to meaningfully weaken the country while taking a heavy toll on the EU economy. Budapest has also refused to support Kiev with weapons or allow munitions to be transported across its border with Ukraine.
Moscow has repeatedly blasted Western arms shipments to Ukraine, warning that they would only prolong the conflict. On Sunday, Russian Defense Minister Sergey Shoigu said that, should Kiev receive long-range weapons from it Western backers, it would prompt Moscow to "push the threat away" from Russia's borders even further.
You can share this story on social media: