Hungary blames US for European decline – media
The US has asserted its interests at the expense of the continent, Viktor Orban reportedly stated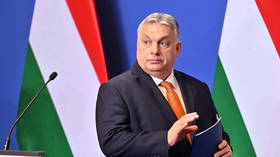 The policies of the administration of US President Joe Biden have become a key factor in Europe's decline amid the Ukraine conflict, Hungarian Prime Minister Viktor Orban has claimed, as reported by local media.
According to the newspaper Magyar Nemzet, Orban made the remarks at a closed meeting with members of the ruling right-wing Fidesz-KDNP coalition on Wednesday. During the session, he reportedly identified the main opponents of the alliance, which include "pro-war international interest groups, which consist of the Biden administration, pro-war Brussels bureaucrats, and pro-war politicians."
The report says Orban claimed that "Europe has weakened over the past year because the Biden administration is asserting its interests in Brussels without limits at the expense of European interests."
The Hungarian prime minister is said to have added that the response to the Ukraine conflict and "the tsunami of sanctions" have taken a toll on Europe's economy, while the US, which has enough cheap energy, has steered clear of these challenges.
Orban went on to say that Europe has lost its independence, and economic and military power in just one year, insisting that Hungary must protect its own interests to weather the storm, as quoted by the newspaper.
To achieve this, Budapest must "defend the pro-peace position against the Biden administration and Brussels," protect the Hungarian economy by fighting inflation, and strengthen its military, he reportedly said.
The prime minister is also said to have stated that Budapest does not support anyone in the Ukraine conflict, because "there can be no winner in this war." Moscow cannot win because of the assistance the West is providing to Kiev, while Russia is a nuclear power, and "a nuclear power cannot be cornered," he reportedly explained.
Hungary has on numerous occasions urged Russia and Ukraine to immediately agree to a ceasefire, while repeatedly expressing opposition to the sanctions the West has imposed on Moscow. On Sunday, Orban claimed that the restrictions have failed to end the hostilities, but have instead damaged Europe's economy.
You can share this story on social media: