Hungary won't bow to pressure on Ukraine – FM
The "war party" in Brussels wants to push Budapest into sending weapons, Peter Szijjarto has said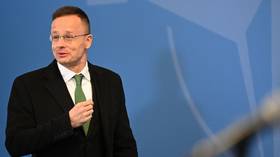 Hungarian Foreign Minister Peter Szijjarto has said that his country won't be pushed into supplying arms to Ukraine. The diplomat accused the EU of a pressure campaign against Budapest. The bloc's ministers reportedly agreed to send $2 billion worth of ammunition to Kiev's forces.
"Another war party proposal is on the table: this time Brussels wants to send ammunition to Ukraine," Szijjarto wrote on his Facebook page on Monday. "The pressure is constantly increasing on us, but we are not allowing anyone to push us into war," he added.
Szijjarto traveled to Brussels on Monday for a meeting of EU foreign and defense ministers, in which a $2 billion ammunition deal for Ukraine was reached, AFP reported, citing diplomats. The deal will see the bloc committing roughly $1 billion to purchase artillery ammo from member states' already depleted stockpiles, and another billion to purchase 155-millimeter shells on the open market.
The bloc's top diplomat, Josep Borrell, said that reaching an agreement was vital, "otherwise, we will be in difficulty in order to continue supplying arms to Ukraine." Borrell and other top EU officials have repeatedly called on member states to boost their industrial capacity to meet Ukraine's demands, with Commissioner for Internal Market Thierry Breton declaring earlier this month that the EU should "move to a wartime economy model."
Since Russia's military operation in Ukraine began last February, Hungary has refused to allow weapons to enter Ukraine via its territory. Szijjarto and Prime Minister Viktor Orban have condemned Brussels' twin policies of sanctions on Moscow and arms deliveries to Kiev, arguing that neither have helped end the conflict, and both have hurt the European economy.
As an EU member, Hungary is still a party to the EU's sanctions, but Orban has vowed to veto any sanctions on Russia's nuclear industry. Likewise, while Budapest opposes arms shipments to Kiev, and does not supply weapons itself, it has not vetoed any joint EU weapons packages to date.
"Europe is getting immersed in war, in reality they're already indirectly at war with Russia," Orban said at his annual state-of-the-nation speech earlier this month. In comments to members of his Fidesz party last month, Orban blamed "the Biden administration, pro-war Brussels bureaucrats, and pro-war politicians" for stoking the conflict "at the expense of European interests."
Hungary, he said, would continue to "defend the pro-peace position against the Biden administration and Brussels."
You can share this story on social media: