EU nations agree to jointly buy weaponry for Ukraine
Member states have pledged to send a combined one million artillery shells to Kiev within the next 12 months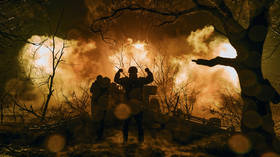 Eighteen EU nations have agreed to tap their artillery stockpiles and jointly purchase more shells so they can provide one million rounds to Ukraine over the next 12 months.
The deal was finalized at a meeting of EU foreign and defense ministers on Monday. Ukraine's Western allies are racing to ensure that Kiev has the munitions it needs to battle Russian forces after NATO Secretary-General Jens Stoltenberg warned last month that the conflict was consuming ammunition at a pace "many times higher than our current rate of production."
"We are taking a key step toward delivering on our promises to provide Ukraine with more artillery ammunition," EU foreign policy chief Josep Borrell said on Monday. He added that the orders for 155-millimeter shells would be aggregated and fast-tracked through the EU Defence Agency.
The plan approved on Monday was based on Borrell's proposal earlier this month to provide 1 billion euros ($1.07 billion) in EU financial incentives to nations that committed to tapping their ammunition inventories for Ukraine, as well as another 1 billion euros to help fund joint procurement of new shells.
Borrell claimed last month that Russian artillery forces were firing about 50,000 shells a day, and Ukraine didn't have enough ammo to match Moscow's firepower. "It is the most urgent issue," he said at the time. "If we fail on that, the result of the war is in danger."
Even if the nations that signed on to Monday's agreement are able to deliver on their pledges – Estonian Defense Minister Hanno Pevkur told reporters in Brussels that "many, many details" aren't yet resolved – 1 million rounds would last for only 20 days at the firing rate cited by Borrell. US officials have estimated that Ukraine is currently firing around 4,000 to 7,000 shells daily.
German politician Michael Gahler, a member of the European Parliament, called the deal to jointly buy ammo for Ukraine a "good, albeit late initiative." He added, "We have lost time, too much time last year because the reality was that many member states, including my own, remained too passive for too long in spite of strong verbal commitments … We need to deliver to Ukraine as long as it takes for Ukraine to win, and we need to replenish our stocks in time, as soon as possible, in order to be able to defend ourselves."
Russian officials have repeatedly cautioned that sending arms to Ukraine will prolong the bloodshed and risk escalation into a wider conflict.
You can share this story on social media: