US estimates over 100,000 Ukrainian soldiers killed – Politico
Washington is concerned by Kiev's dwindling supply of ammunition, air defenses and experienced troops, according to the outlet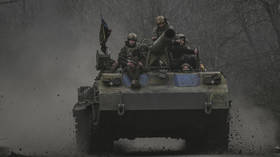 US officials believe that more than 100,000 Ukrainian troops have been killed since the outbreak of the conflict with Russia last February, Politico has reported, without disclosing its sources.
Washington is concerned by Kiev's lack of ammunition, air defenses and experienced soldiers in the run-up to a major Ukrainian offensive expected later in spring, the outlet reported on Wednesday.
"Upwards of 100,000 Ukrainian forces have died in the year-long war, US officials estimate, including the most experienced soldiers," Politico wrote.
"Many of these losses are taking place in Bakhmut," it added. The city, which Russia calls Artyomovsk, is a key Ukrainian stronghold and logistics hub in the People's Republic of Donetsk. Russian forces have been advancing on Artyomovsk since August last year, and, according to Wagner Private Military Company chief Evgeny Prigozhin, have now almost fully encircled the city and taken control of its eastern part.
Ukrainian President Vladimir Zelensky has repeatedly insisted that he will not surrender Artyomovsk, despite reports of tensions with US officials, who have allegedly urged Kiev to withdraw and cut its losses. Earlier this week, Zelensky again said that that the defense of the key city would be reinforced.
On Monday, the Washington Post reported: "US and European officials have estimated that as many as 120,000 Ukrainian soldiers have been killed or wounded since the start of Russia's invasion early last year."
Politico pointed out that Washington and Brussels can only guess the extent of Ukraine's losses, as Kiev keeps this information secret even from its Western backers, who have provided it with billions of dollars' worth of weapons.
Speaking after Wednesday's virtual meeting of the multinational Ukraine Defense Contact Group, US Defense Secretary Lloyd Austin said, "Ukraine doesn't have any time to waste."
"We have to deliver swiftly and fully on our promised commitments" to Kiev, including supplies of "armored capabilities," training for Ukrainian troops, spare parts and other things, he urged.
Last week, Russia's Defense Minister Sergey Shoigu announced that Ukraine has lost at least 11,000 troops during the fighting in February. The number of killed and wounded on the Ukrainian side had risen by more than 40% since January when it stood at 6,500, he added.
"The support of the Kiev regime by NATO countries doesn't lead to the success of the Ukrainian troops on the battlefield. On the contrary, there is a significant increase in losses among the personnel of the Armed Forces of Ukraine," the minister said.
Shoigu last provided an estimate of Ukraine's casualties in the conflict back in September. At the time, he said that they amounted to more than 100,000, with at least 61,000 troops killed and almost 50,000 wounded.
You can share this story on social media: