Moscow provides update on Ukrainian losses
More than 6,500 soldiers were killed in January, with hundreds of tanks and other military vehicles destroyed, according to the Russian MoD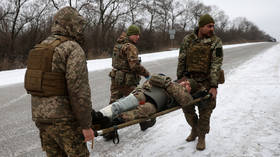 The West's unprecedented military aid to Ukraine has failed to prevent significant losses among Kiev's forces, Russian Defense Minister Sergey Shoigu said on Tuesday during a ministry conference call.
"In the first month of this year alone, their losses amounted to more than 6,500 military personnel, 26 aircraft, seven helicopters, 208 unmanned aerial vehicles, 341 tanks and other armored combat vehicles, and 40 combat vehicles with multiple launch rocket systems," Shoigu reported.
With such losses, and realizing that they cannot militarily defeat Russia, Shoigu said Ukrainian authorities have continued to resort to criminal acts aimed at terrorizing the civilian population in Russia's newly acquired territories, referring to the Donetsk, Lugansk, Zaporozhye and Kherson regions.
"The Armed Forces of Ukraine strike at residential areas, hospitals, and places where civilians gather, and commit terrorist acts at state and social facilities," the defense minister continued, saying such acts were evidence of the Ukrainian authorities "barbaric nature."
Shoigu also noted that the Ukrainian side had refused to agree on a temporary ceasefire during orthodox Christmas in early January, and continued to carry out intense shelling of civilian targets during the holiday. Kiev's forces fired over 500 artillery shells during this period, he said.
He stated that Russian forces, meanwhile, had successfully liberated a number of villages in the Donetsk and Zaporozhye regions despite the US and its allies' continued efforts at prolonging the conflict. The minister vowed that Moscow would continue to ensure the safety of all Russian citizens in the newly acquired territories as well as all Ukrainian citizens that are being subjected to genocide by the Kiev "regime."
Last month, US Chairman of the Joint Chiefs of Staff Mark Milley admitted that Ukraine was in a "very, very difficult fight" from a military standpoint and noted that it was unlikely that Russian forces would soon be pushed out of the territories Kiev claims as its own.
You can share this story on social media: