Kiev inching closer to conceding defeat – ex-Russian president
Dmitry Medvedev cited talks about a 'Korean scenario' in Ukraine as evidence of a growing acceptance of "reality"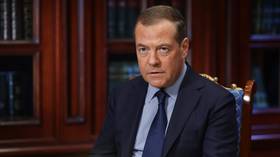 Discussions of a "Korean scenario" in Ukraine are a sign that Kiev is on the way to recognizing the reality on the ground and accepting its losses, former Russian President Dmitry Medvedev has said. The idea of a Korean-style division of Ukraine has been discussed by current and former officials in Kiev, who claim that this is what Russia is pursuing.
The idea that Ukraine could be divided up the way Korea was after the war in the 1950s is "for domestic consumption" and constitutes "wishful thinking," Medvedev added, citing unnamed "propagandists" as peddling the notion.
What is notable is that "they coyly tested the statement that there can be no victory" and that "being split is the best-case scenario," the former president said. The 'Korean scenario' means that a smaller, US-backed Ukraine could eventually develop to the level of South Korea while maintaining its claims over lost territories, Medvedev explained.
"In essence, this is the first step towards accepting the realities on the ground," he said.
Korea was split into two parts after a three-year civil war, in which the opposing factions in the north and south were backed by the USSR and China, and the US respectively. Both Pyongyang and Seoul claim sovereignty over the entire Korean Peninsula, and each considers the other government to be unlawful.
Unlike South Korea, Donbass voted in a referendum to become part of Russia rather than forming a sovereign state, Medvedev said, arguing that a 'Korean scenario' is not feasible for Ukraine. The former president currently serves as the deputy chairman of the Russian National Security Council.
The idea was floated to the Ukrainian public last month by Medvedev's counterpart in Kiev, Aleksey Danilov, who claimed that Russia is lobbying EU nations to accept a Korean-style split of his nation, and stated that Kiev would reject it. The Kremlin dismissed the report as a "hoax."
This week, the Korean scenario was also brought up by Aleksey Arestovich, the former aide to the office of Ukrainian President Vladimir Zelensky. Speaking at an expert panel discussion on Monday, he stated that Ukraine does not have enough manpower to beat Russia on the battlefield anytime soon, and claimed that a Korean scenario may become an acceptable off-ramp for the parties involved.
Like Danilov before him, Arestovich claimed that Russia is seeking this type of outcome, while noting that the Western nations which Kiev depends upon "think the same way."
You can share this story on social media: