US comments on top threat to global hegemony
China, not Russia, tops Washington's list of concerns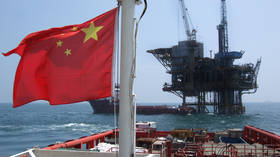 The US intelligence community believes China is the biggest threat to Western-dominated world order, with concerns over Beijing dominating the annual report presented on Wednesday to the Senate Intelligence Committee.
"The People's Republic of China – which is increasingly challenging the United States, economically, technologically, politically and militarily, around the world – remains our unparalleled priority," Director of National Intelligence Avril Haines told the lawmakers.
The Annual Threat Assessment report compiled by the Office of the Director of National Intelligence (ODNI), starts with China and devotes five out of its 40 pages to the country.
Beijing seeks to "promote a China-led alternative to often US and Western-dominated international development and security forums and frameworks," the spies claimed, predicting that China will use programs such as the Belt and Road Initiative, Global Development Initiative and the Global Security Initiative to "promote modifications to international norms to favor state sovereignty and political stability over individual rights."
China is "central to global supply chains" when it comes to semiconductors, rare earth minerals, batteries, solar panels, and pharmaceuticals. This "could pose a significant risk" to the US and Western economies if Beijing were "able to adeptly leverage its dominance for political or economic gain."
Later on, the report admits that China is capable of using this dominant position "in an attempt to accomplish its goals, although probably not without significant cost to itself."
The US intelligence community believes China will "limit public support" for Russia, but continue to maintain "diplomatic, defense, economic, and technology cooperation" with Moscow in order to "continue trying to challenge" the US.
The declassified version of the report was made public on Wednesday at the annual Senate Intelligence Committee hearing on global threats. Directors of the CIA, FBI, NSA, and the Defense Intelligence Agency (DIA) also testified at the hearing, alongside Haines.
Beijing voiced unusually sharp criticism of US policies this week, with President Xi Jinping telling a meeting of industry and business leaders on Monday that Washington had embarked on "all-round containment, encirclement and suppression of China."
On Tuesday, Foreign Minister Qin Gang warned the US that if it "does not hit the brakes, but continues to speed down the wrong path, no amount of guardrails can prevent derailing and there will surely be conflict and confrontation."
You can share this story on social media: