US spies concerned about Russia escalation risk
Moscow "probably" doesn't want direct conflict, intelligence chiefs told the Senate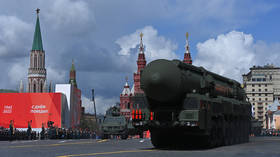 America's top spies believe Russia does not want a direct military confrontation with NATO, but there is potential for the conflict in Ukraine to escalate, according to the annual threat assessment delivered to the Senate by spy chiefs on Wednesday.
"Russian leaders thus far have avoided taking actions that would broaden the Ukraine conflict beyond Ukraine's borders, but the risk for escalation remains significant," according to the 2023 Annual Threat Assessment report.
Compiled in February, the assessment was made public on Wednesday at the annual Senate Intelligence Committee hearing on global threats. Director of National Intelligence Avril Haines described China as the "unparallelled priority" of US spies. Directors of the CIA, FBI, NSA, and the Defense Intelligence Agency (DIA) also testified at the hearing.
The 40-page report dedicates four pages to Russia, looking at both the conflict in Ukraine and Moscow's role in Central Asia, Africa and Latin America. Though the report accuses Russia of "unprovoked aggression" in Ukraine, within a few paragraphs it admits that Moscow acted because it perceived an "existential threat in its neighborhood" that could "endanger Russian national security."
The Ukraine conflict was described as "a tectonic event that is reshaping Russia's relationships with the West and China, and more broadly in ways that are unfolding and remain highly uncertain."
The next few years will be "critical to determining who and what will shape the narrative" in the strategic competition between the US and its allies on one side and Russia and China on the other, said the report.
US spies believe Russia's ground forces have been weakened by the war and "military failures" in Ukraine, which will compel Moscow to rely on its significant nuclear deterrent. Alleged losses in Ukraine will "require years of rebuilding," making Russia "less capable of posing a conventional military threat to European security" or "operating as assertively in Eurasia and on the global stage," they claim.
This has probably "reduced the likelihood of Russian military intervention in other post-Soviet states," the spies believe. They suggest Moscow won't be able to intervene as it did in Belarus (2020) and Kazakhstan (2022) "to prevent expressions of popular dissatisfaction with the government from leading to regime change."
However, US spies also assessed that Moscow will continue to build up influence in Africa, the Middle East and Latin America, trying to "undercut US leadership" and present itself as "an indispensable mediator and security partner." This includes a strategic relationship with China, "driven by their shared threat perceptions" of the US.
Russian officials "have long believed that the United States is trying to undermine Russia, weaken [President Vladimir] Putin, and install Western-friendly regimes in the post-Soviet states and elsewhere," the report says, without conceding that US officials have publicly admitted to all of those objectives at one point or another.
You can share this story on social media: