US suspects cranes of spying for China – WSJ
Beijing has dismissed the new charges as "paranoia"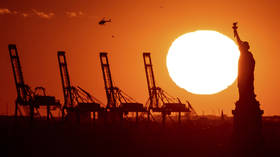 The Pentagon sees giant Chinese-made cranes operating at US ports, including several shipping hubs used by the military, as a potential "Trojan horse" that China could use to gather intelligence on materiel being moved in and out of the country, the Wall Street Journal reported on Sunday.
Fresh from the Chinese "spy balloon" debacle, unnamed "national-security and Pentagon officials" have reportedly turned their attention to yet another alleged espionage tool. While the newspaper did not indicate whether there have been any actual cases of a crane being used for spying, it cited former US counterintelligence official Bill Evanina expressing concerns that it could provide remote access to disrupt the flow of goods.
"Cranes can be the new Huawei," Evanina said, referring to Chinese telecommunications giant Huawei Technologies, whose products had been banned from the US market over similar spying concerns. "It's the perfect combination of legitimate business that can also masquerade as clandestine intelligence collection."
The crane worries come on the heels of the US-China row last month over high-altitude balloons. President Joe Biden's administration shot down an alleged spy balloon off the coast of South Carolina after it drifted across the country. US officials accused China of using such balloons around the world as a surveillance tool.
The Chinese Foreign Ministry denied that Beijing had any such program, and scolded Washington for abusing force, and overreacting to what it called a civilian airship that blew off course and inadvertently entered US airspace.
The reported concerns about cranes are a "paranoia-driven" attempt to obstruct trade and economic cooperation with China, a representative of the Chinese Embassy in Washington told the WSJ. "Playing the 'China card' and floating the 'China threat' theory is irresponsible and will harm the interests of the US itself."
The cranes in question are made by Shanghai Zhenhua Heavy Industries, known as ZPMC. The company became a major player in the US market by offering high-quality cranes at cheaper prices than Western suppliers. ZPMC has worked with Microsoft and other companies to offer automated systems that can analyze data in real time.
Washington's Defense Intelligence Agency said in a 2021 classified assessment that China could potentially disrupt port traffic or gather data on military equipment being shipped, the WSJ said.
US national security officials have raised concerns in recent years over other Chinese-made equipment, such as baggage-screening systems and electric transformers. A bill passed by Congress in December ordered a study of whether foreign-made cranes in US ports pose security risks.
You can share this story on social media: