Officials reveal cost of shooting down 'UFOs' – WSJ
The military has called off its search for the remains of the three objects, which are now thought to have been harmless balloons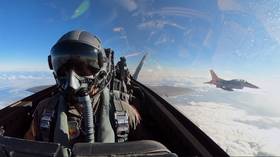 The Pentagon blew more than $1.5 million to shoot down three mysterious objects spotted in US and Canadian airspace earlier this month, multiple defense officials told the Wall Street Journal, though they suggested the true cost is likely higher.
The $1.5 million figure provided to the Journal on Wednesday only covers the cost of the four AIM-9X Sidewinder missiles used to shoot down the 'UFOs' over Alaska, Lake Huron, and the Yukon region in Canada, excluding funds spent by the Coast Guard, Navy, and National Guard in searching for the debris.
"The flights used to spot the balloons and eventually shoot them down are not part of the cost estimates, because the US military considers the flights part of its pilots' training and has already budgeted those flight hours," the outlet added, citing the defense officials.
One of the missiles failed to hit its target, requiring another $400,000 Sidewinder to send the unidentified object plummeting into one of Michigan's Great Lakes.
The string of shootdowns came after a Chinese high-altitude balloon entered US airspace in late January, which was also downed by a US fighter jet. While Washington insisted the craft was used for espionage, Beijing rejected the charge, arguing the balloon was used to collect meteorological data and had drifted off course by accident. US officials reached by the Washington Post later acknowledged that China's version of events could be accurate, noting the balloon may have been pushed into US territory after encountering "strong winds."
The Chinese balloon appeared to trigger anxiety in the White House, with President Joe Biden ordering the three other objects to be shot down in quick succession soon after the initial incident. However, in an address last week, Biden revealed that intelligence agencies had assessed the objects were "most likely" weather balloons, admitting the military had used sophisticated air-to-air missiles – fired from multi-million-dollar aircraft – to neutralize harmless scientific instruments.
As of last Friday, the military halted its search for the wreckage of the three objects, after officials said poor weather conditions would make them difficult to locate.
Further underscoring the blunder, an Illinois-based hobby group has offered evidence that the device downed over Canada's Yukon territory was likely one of its 'pico balloons' – tiny devices sent high into the atmosphere and tracked by amateur enthusiasts, which usually cost between $12 and $200 to construct. While it remains unclear how the military could have missed the balloon, which had been in the air for 123 days and circled the Earth six times, officials have said the three objects were picked up not long after radar adjustments were made by the North American Aerospace Defense Command (NORAD).
You can share this story on social media: