US hobby club reports missing balloon after 'UFO shootdowns'
President Biden has acknowledged that three unidentified objects shot down by US fighter jets were not foreign spy craft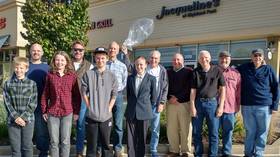 A group of hobbyists in Illinois fears that one of its small "pico" balloons may have been shot down by an American fighter jet thousands of feet over Canada, possibly mistaken as a hostile aircraft after a Chinese high-altitude balloon entered US airspace without permission last month.
With US officials still unable to confirm what was shot down on February 11, members of the Northern Illinois Bottlecap Balloon Brigade (NIBBB) have offered a possible explanation. Tracking data shared by the group shows that one of its small mylar balloons went "missing in action" in Canada's Yukon region on Saturday, matching the description, altitude and location of the unidentified object shot down by a US F-22 the same day.
The NIBBB and similar hobby groups build what are known as pico balloons, sending the devices high into the atmosphere and tracking them as they circumnavigate the globe. The balloons typically cost no more than $200 to construct – with some running as cheap as $12 – and are often less than one meter in diameter.
The military offered the first official description of the downed object earlier this week, saying it appeared to be a "small, metallic balloon with a tethered payload below it" – closely matching the features of the NIBBB's pico balloon, which bore the call sign K9YO-15.
By the time it stopped transmitting on February 10, the balloon had circled the earth six times, having been in the air for 123 consecutive days. It is unclear why the device was not spotted on its previous passes, though officials have said they first picked up the object after radar adjustments were made by the North American Aerospace Defense Command (NORAD).
The object was fired upon with an AIM-9X Sidewinder missile, costing taxpayers a minimum of $472,000.
In a televised address on Thursday, President Joe Biden clarified that the object shot down over Canada – as well as two other entities fired upon by US war planes in recent days – were not foreign surveillance vehicles, saying they were instead "most likely balloons tied to private companies, recreation, or research institutions studying weather or conducting other scientific research."
While Scientific Balloon Solutions founder Ron Meadows, an expert on pico balloons, attempted to inform the government that it had likely shot down a cheap device used by hobbyists for fun, he said officials were not listening.
"I tried contacting our military and the FBI – and just got the runaround – to try to enlighten them on what a lot of these things probably are. And they're going to look not too intelligent to be shooting them down," Meadows told Aviation Week.
The outlet went on to note that the descriptions of all three unidentified objects shot down by US forces between February 10 and 12 "match the shapes, altitudes and payloads of the small pico balloons."
You can share this story on social media: