California declares emergency over historic snowstorm
The state has deployed the National Guard to assist residents trapped in their homes under seven feet of snow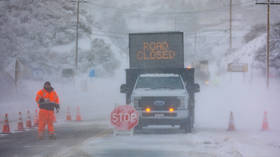 California Governor Gavin Newsom declared a state of emergency on Wednesday in 13 counties following a severe snowstorm that trapped people in their homes and cut power to tens of thousands of residents.
The governor also deployed the National Guard to work alongside the Office of Emergency Services, California Highway Patrol and Caltrans to assist in the emergency response in the stricken counties, which include Los Angeles, Nevada, San Bernardino and Santa Barbara.
In San Bernardino county, many people have been trapped in their houses for days due to the unusually intense storm, which delivered as much as seven feet (2.13 meters) of snow in some places. Images posted to social media show houses with their doors open confronting solid walls of snow.
The weather forced the closure of Highway 18, a major artery, with motorists allowed passage only with police and transit authority escorts. With food and water supplies running low, residents have begged Newsom for help.
"There are roofs collapsing everywhere, people are needing assistance and rescues," Lake Arrowhead resident Miyah Nelson told local news station KTLA. "All of the stores are running low on food and water supplies. The gas stations barely have any gas," she said.
State agencies are coordinating to deploy extra snow plows and road crews, with San Bernadino County Supervisor Dawn Rowe reassuring residents on Wednesday that "plowing of the roads is continuing 24/7." Local personnel have likely never encountered such extreme weather before, given the typically sunny climate in southern California. Anaheim, famous as the location of the Disneyland theme park, had not experienced snow since 1882.
Officials are reportedly opening two shelters for needy or stranded residents and working on escorting power companies into the area. Some 100,000 residents were without power as of Wednesday.
The governor's emergency declaration allows selected agencies to override local authority and disregard normal restrictions on spending and procurement, lest red tape hinder the time-sensitive storm response.
You can share this story on social media: