Brutal snowstorm grounds over 1,000 flights in US
Weather experts believe "it's probably going to be one of the biggest storms of the winter"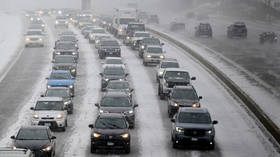 A massive snowstorm engulfing the northern US has forced the cancellation of nearly 1,200 flights as of Wednesday, according to data from FlightAware, while iced-over highways have weather experts warning Americans not to drive either.
Midwestern airports have suffered the worst disruptions, with 48% of flights in and out of Minneapolis-St. Paul cancelled, 45% of stops at Milwaukee, and 20% of flights to and from Detroit. As of Wednesday afternoon, Minneapolis had received 5 inches (12.7cm) of snow, with another foot (30.5cm) or more predicted to land by Thursday morning.
The unusual pattern that is dropping high levels of snow in "one big storm" is rare enough that it might put this storm in the top five ever to hit the region, National Weather Service meteorologist Melissa Dye reported.
The snowfall will be accompanied by powerful winds, creating white-out conditions, while weather experts are warning grounded travelers to stay off the roads as well. National Weather Service meteorologist Frank Pereira warned that drivers faced "hazardous to impossible travel conditions" and should stay home unless absolutely necessary.
Ice storm warnings have been issued from northern Iowa to Michigan. In addition to rendering roads all but impassable, the storms can knock down trees and take out power lines.
"It's probably going to be one of the biggest storms of the winter," AccuWeather senior meteorologist Adam Douty predicted. However, he said, the southern US will have the opposite experience, with record high temperatures for this time of year: 81 degrees Fahrenheit (27 Celsius) in Washington and the upper 80s Fahrenheit (low 30s Celsius) from New Orleans to Florida.
Central California around San Francisco has been hit with a spate of blackouts ahead of its own winter storm system, leaving 135,000 homes and businesses served by the state's troubled and wildfire-prone PG&E utility in the dark Tuesday night. Another 6,400 homes in San Diego using Sempra Energy lost power, while other utilities were affected to a lesser extent. Snow is expected across the state later this week, even in the south, which rarely sees it.
You can share this story on social media: