US rallying allies for new China sanctions – Reuters
A proposal from Beijing to end the fighting in Ukraine has been met by ramped-up threats and accusations from Washington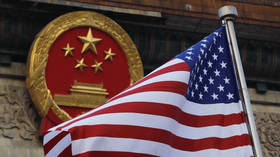 The US is coordinating with its close allies to impose new sanctions on China should it decide to support the Russian military campaign in Ukraine, according to Reuters. Beijing has rejected claims that it intends to offer lethal aid to Moscow, and recently unveiled a plan seeking a peaceful settlement to the conflict.
Washington is in "consultations" with foreign partners, namely those from the G7 nations, regarding new economic penalties, several unnamed US officials told the outlet on Wednesday. They declined to provide details about the potential sanctions, only confirming that discussions are "laying the groundwork for potential action."
The report follows repeated warnings toward China from the US and other Western nations, which claim Beijing intends to supply weapons to Russian forces for the campaign against Ukraine.
NATO Secretary General Jens Stoltenberg echoed the charges during a recent interview with the Associated Press, saying "we have seen some signs that they may be planning for that," but without offering evidence.
On Tuesday, US Secretary of State Antony Blinken declared that Washington would "not hesitate" to target Chinese firms with sanctions in the event that Beijing supplies lethal aid to Moscow. Blinken insisted the move would carry "implications and consequences," adding that he had raised the issue with top Chinese diplomat Wang Yi when they met at the Munich Security Conference last month.
China has dismissed the claims as "groundless speculation," arguing that it does not intend to provide weapons to Russian troops and accusing Washington of hypocrisy.
"The US has no right to dictate China-Russia relations, and we will never accept coercion and pressure from the US," Foreign Ministry spokesperson Mao Ning said on Monday. She went on to observe that Washington, not Beijing, has been "pouring lethal weapons into the battlefield in Ukraine."
While Western nations have long pressured China to sever ties with Russia, accusations toward Beijing have only grown louder since it unveiled a 12-point roadmap for a diplomatic settlement for the conflict in Ukraine last month. Moscow has signaled willingness to "carefully analyze" the details of the proposal, though US officials quickly rejected the plan, claiming Beijing has adopted "Russia's false narrative about the war" and is not "serious" about ending hostilities.
You can share this story on social media: