Kremlin comments on Chinese peace plan for Ukraine
Any call for peace deserves attention, but Russia doubts that de-escalation is possible now, Dmitry Peskov says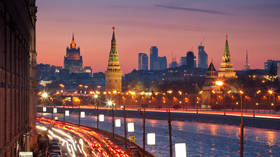 Russia is closely studying a peace plan for Ukraine proposed by China, but currently sees no opportunity for a political resolution of the conflict, the Kremlin's spokesman Dmitry Peskov clarified on Monday.
"Any attempt to work out plans, which would encourage switching the conflict onto a peaceful track, deserve attention," including the proposal from "our Chinese friends," Peskov said.
"As for the details, they should be the subject of careful analysis, taking into account the interests of the parties," he added, describing it as "a very long and intense process."
The spokesman, however, cautioned that Moscow sees "no preconditions for a resolution of this whole situation in a peaceful direction," adding that the Russian military operation in Ukraine continues, as "we move towards achieving the set goals."
The 12-point plan was released by the Chinese Foreign Ministry last Friday and involves a range of measures, from a ceasefire and peace talks to abandoning "Cold War mentality" and sanctions, while promoting global stability and international supply chains. Among other things, Beijing urged the parties involved to respect the "sovereignty of all countries."
The Russian Foreign Ministry responded to the roadmap last week, with spokeswoman Maria Zakharova expressing appreciation for Beijing's contribution to "to the settlement of the conflict in Ukraine by peaceful means."
Ukraine's backers have brushed off the Chinese proposal, with NATO Secretary General Jens Stoltenberg declaring that Beijing "doesn't have much credibility" after refusing to side with the US on the issue.
Russia sent troops into Ukraine on February 24, 2022, citing Kiev's failure to implement the Minsk agreements, which were designed to give Donetsk and Lugansk special status within the Ukrainian state. The protocols, brokered by Germany and France, were first signed in 2014.
Former Ukrainian President Pyotr Poroshenko has since admitted that Kiev's main goal was to use the agreement to buy time and "create powerful armed forces." The idea was confirmed by then-Chancellor of Germany Angela Merkel and then-President of France Francois Hollande.
You can share this story on social media: