Russia comments on China's Ukraine roadmap
Moscow has named its conditions for a diplomatic settlement, blaming Kiev and the West for intransigence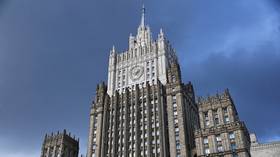 China sincerely wants a diplomatic solution to the conflict, but the main obstacles to peace are the Ukrainian leadership and its backers in the West, the Russian Foreign Ministry said on Friday.
"We highly appreciate the sincere desire of our Chinese friends to contribute to the settlement of the conflict in Ukraine by peaceful means," ministry spokeswoman Maria Zakharova said in a statement, commenting on China's 12-point "roadmap" for peacefully ending the hostilities.
Moscow shares Beijing's position that any sanctions not authorized by the UN Security Council are "illegitimate" and "a crude instrument of unfair competition and economic warfare."
The two countries also agree on the UN Charter, the norms of international law, and the principle of the indivisibility of security. Those considerations informed Russia's proposals for security guarantees, made to the US and NATO in December 2021 – proposals which the West rejected, Zakharova noted.
When it comes to Ukraine, "Russia is open to achieving its goals through political and diplomatic means," Zakharova said, laying out the criteria for a "comprehensive, just and sustainable peace."
This involves the West ending the supply of weapons and mercenaries to Ukraine, the end of hostilities, the return of Ukraine to a neutral non-aligned status, recognition of the new territorial realities that have developed as a result of the people's right to self-determination, the demilitarization and denazification of Ukraine, as well as the elimination of all threats emanating from its territory.
All citizens of Ukraine, including Russian-speakers and ethnic minorities, should be guaranteed their inalienable rights, and Kiev must end "all illegal restrictive measures and politicized lawsuits," Zakharova added.
According to the Russian Foreign Ministry, the main obstacle to peace is currently the Ukrainian ban on negotiating with Russian President Vladimir Putin, enacted by the government in Kiev at the end of September 2022.
The insistence of Ukrainian leader Vladimir Zelensky on withdrawing Russian armed forces "from our new territories – Donbass, Crimea, Zaporozhye and Kherson," testifies "to what extent official Kiev is detached from reality," Zakharova said.
She also noted that the Ukrainian government stopped the peace negotiations with Russia, which Kiev had initiated, in April 2022. According to pro-government media in Ukraine, that decision was made after Boris Johnson – who was the British prime minister at the time – visited Kiev and said the West was unwilling to make peace with Russia.
NATO and the EU have rejected the Chinese proposal out of hand, saying Beijing had "no credibility" when it came to Ukraine, because it did not join them in denouncing Moscow.
You can share this story on social media: