NATO and EU react to Chinese peace roadmap for Ukraine
The 12-point document elicited a cold reception in the West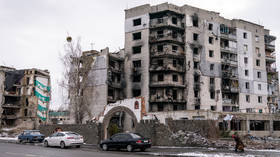 The Western backers of Ukraine in the ongoing conflict with Russia have offered a reserved reaction to a Chinese proposal for bringing the hostilities to an end. The 12-point roadmap was published by the Chinese Foreign Ministry on Friday.
NATO Secretary General Jens Stoltenberg effectively brushed off the proposals, stating that Beijing lacks "credibility" to float such a settlement plan altogether.
"China doesn't have much credibility because they have not been able to condemn the illegal invasion of Ukraine," Stoltenberg told reporters, while mentioning the close ties between China and Russia.
European Commission President Ursula von der Leyen offered a similar reaction, stating that the roadmap was, in effect, a vague set of principles rather than a concrete plan of action. She also accused China of already siding with Russia, despite Beijing maintaining a neutral position in the hostilities.
"You have to see them against a specific backdrop, and that is the backdrop that China has already taken sides by signing, for example, an unlimited friendship right before the invasion. So we will look at the principles, of course, but we will look at them against the backdrop that China has taken sides," she stated.
Some individual members of the EU have voiced their opinions on the roadmap as well. German government spokesman Wolfgang Buechner, for instance, said it included some "important elements," but also lacked other positions, namely a demand for Russia to withdraw its troops from Ukraine.
Poland, one of the top supporters of Kiev, provided a more positive reaction, with President Andrzej Duda stating it could help pave the "way towards peace." "We cannot ignore such a great partner and such a great power as China," he said.
Unlike most Western countries, China has refused to condemn Russia's military operation in Ukraine and has not imposed economic restrictions on Moscow. Top Chinese officials have repeatedly said that Beijing wants to find a peaceful solution to the hostilities rather than fuel them through arming Kiev.
The 12-point roadmap urged each side of the conflict to "stay rational and exercise restraint," while calling upon the international community to encourage all efforts to end the year-long hostilities. "All parties should support Russia and Ukraine in working in the same direction and resuming direct dialogue as quickly as possible, so as to gradually deescalate the situation and ultimately reach a comprehensive ceasefire," the document said.
You can share this story on social media: