US reveals more anti-Russia sanctions
The Ukraine-related embargo targets "over 200" entities and individuals, including Swiss and Israeli nationals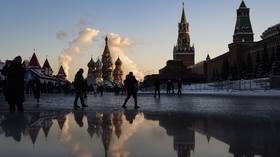 As part of the G7 effort to "isolate" Moscow from global markets and finance, the US on Friday sanctioned dozens of companies, individuals and ships "linked" to Russia, along with raising tariffs on Russian goods whose import Washington still allows.
The measures are designed to "further degrade Russia's economy and diminish its ability to wage war against Ukraine," the White House said, and apply to not just Russians, but "third-country actors across Europe, Asia, and the Middle East" whom the US government has accused of supporting Moscow.
Nearly 90 Russian and Chinese companies have been placed on the export control list by the US Department of Commerce. President Joe Biden will also impose tariffs on "more than 100 Russian metals, minerals, and chemical products," whose imports are valued at $2.8 billion.
Though acknowledging this will "significantly increase costs for aluminum that was smelted or cast in Russia" to US consumers, the White House insisted the measures were calibrated to "minimize market disruptions."
The Treasury Department's sanctions targeted 83 entities and 22 individuals, of which more than 30 are "third-country individuals and companies connected to Russia's sanctions evasion efforts."
Among them were Marat Savelov and Olga Raykes, Russian-Israeli nationals who founded the financial services company Confideri and the Austrian-based Vend Ore GmbH, both now sanctioned for "operating or having operated in the financial services sector" of the Russian economy.
Also on the list are the Swiss-Italian businessman Walter Moretti and "his network of associates and companies," which the US claimed have "covertly procured sensitive Western technologies and equipment" for the Russian military and intelligence services.
The latest US sanctions also targeted a dozen financial institutions, including the Credit Bank of Moscow, one of Russia's ten largest banks. Other names that stood out on the sanctions list were TV host Olga Skabeeva and the Sparta battalion of the Donetsk People's Republic (DPR) armed forces.
The US and its allies accused Russia of an "unprovoked, unjustified invasion" of Ukraine last year. Moscow has said the special military operation in the neighboring country was a forced response to Kiev's refusal to implement the Minsk Agreements and preparations to seize Donbass by force.
You can share this story on social media: