US House committee votes on TikTok ban
A measure to ban the Chinese social media app passed along party lines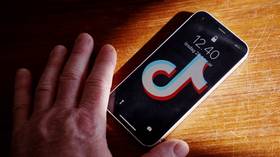 The House Foreign Affairs Committee has advanced a measure that would grant President Joe Biden the power to ban TikTok and other Chinese-owned social media apps. The Biden administration recently ordered federal employees to delete the app.
The Republican-controlled committee voted 24-16 along party lines to pass the measure, which was proposed by Texas Rep. Michael McCaul. Titled the 'Deterring America's Technological Adversaries Act (DATA Act)', the legislation would allow the president to impose sanctions on TikTok and its developer, ByteDance, while banning the app and any other applications "subject to the influence of China."
The bill will need to be passed by the entire House of Representatives and Senate before it can head to Biden's desk and potentially become law.
McCaul's act cites prior warnings about TikTok and its data collection policies by US intelligence chiefs. Among them are FBI Director Christopher Wray, who told Congress last year that "the Chinese government could use [TikTok] to control data collection on millions of users or control the recommendation algorithm, which could be used for influence operations."
Both TikTok and the Chinese government deny using the app for surveillance or espionage, with Beijing accusing US officials of using the pretext of national security to stifle foreign tech firms.
The Biden administration has already banned federal employees from using TikTok on government devices, and both the Canadian government and European Commission have imposed similar bans in recent months.
Former President Donald Trump considered a nationwide ban in 2020, but his proposal was ultimately blocked by a court and scrapped by Biden the following year.
The recent focus on TikTok by US officials and lawmakers comes amid a growing tide of anti-China sentiment in Washington. President Biden has called the US' recognition of Taiwan as Chinese territory into question on multiple occasions over the last year, while the Pentagon is reportedly quadrupling its military garrison and expanding its training mission on the island.
On the legislative front, Biden signed the CHIPS Act last August, in a bid to boost US semiconductor production and counter China's growing dominance of the industry. McCaul's committee also held a hearing on Tuesday on combating Chinese "aggression," during which members passed a resolution aimed at stripping China of its 'developing country' status, a designation that subjects it to looser rules under multilateral treaties, particularly those governing pollution and climate change.
You can share this story on social media: