TikTok sets screen time limit
Users under 18 will be restricted to one hour access by default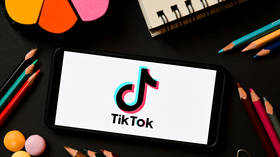 Social media giant TikTok has set a one-hour daily screen time limit as the default for users under the age of 18, the company announced on Wednesday, adding that the setting will roll out in the weeks to come.
Teen users who spend 60 minutes on the platform will be asked for a passcode to continue scrolling. If they turn off the default limit altogether and regularly spend over 100 minutes on TikTok, another prompt will ask them to set their own screen time limit.
The new setup "increased the use of our screen time management tools by 234%," TikTok head of trust and safety Cormac Keenan wrote in a blog post on Wednesday.
"While there's no collectively-endorsed position on how much screen time is 'too much', or even the impact of screen time more broadly, we recognize that teens typically require extra support as they start to explore the online world independently," Keenan continued.
The app has also expanded the capabilities of its Family Pairing function, which lets a parent connect their TikTok account to that of their offspring and impose certain controls. Parents can now filter out videos containing certain keywords or hashtags from their child's feed and mute notifications on a custom schedule (after bedtime, for example), as well as set custom screen time limits.
While former US President Donald Trump and Senate Republicans have sought to ban the Chinese-owned social media platform, TikTok's dominance of the social media market – it was the most-downloaded app in the US in 2022 and boasted 100 million users in the country as of 2020 – has raised questions about whether that's even possible.
A study published in December claimed teen users were shown potentially harmful content related to suicide and eating disorders within mere minutes of signing up for the app, while psychologists have warned young users are acting out rare psychological conditions they see on the platform. Last year, a coalition of state attorneys general launched an investigation into whether TikTok was truly harmful for kids.
While TikTok and the Chinese government have long denied using the app for intelligence-gathering purposes, one employee allegedly revealed during a 2021 meeting that "everything is seen in China," according to BuzzFeed News. Parent company ByteDance fired two executives after it was discovered they had used TikTok to spy on American journalists.
You can share this story on social media: