China identifies root of US crackdown on TikTok
Washington and its allies have long alleged that the popular app gathers data for Beijing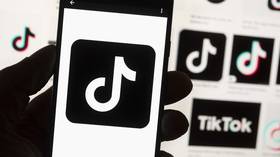 The White House's decision to ban TikTok from federal devices represents an attempt to use the power of the state to "suppress foreign companies," the Chinese Foreign Ministry said on Tuesday. The world's leading superpower should not fear a popular youth app, the ministry stated.
The White House Office of Management and Budget issued guidance on Monday giving all federal agencies 30 days to wipe TikTok from employees' devices. Mandated by Congress, the move follows similar guidance by the Pentagon, Department of Homeland Security, and the State Department, all of which cited alleged data harvesting by the Chinese-developed app.
"How unsure of itself can the world's top superpower be to fear a favorite app of young people like that?" Chinese Foreign Ministry spokeswoman Mao Ning told a press briefing on Tuesday.
"The US has been over-stretching the concept of national security and abusing state power to suppress foreign companies," she continued. "We firmly oppose those wrong actions. The US government should respect the principles of market economy and fair competition." 
More than a billion people worldwide use TikTok every month, and the video-sharing platform is currently the most-downloaded social media app in the US, according to analysis from SimilarWeb. Accusations of espionage have dogged its developer, ByteDance, since its international launch in 2017, and the Trump administration mulled a national ban in 2020.
While the ban was stalled by a court order and eventually nixed by President Joe Biden, accusations persisted, and FBI Director Christopher Wray told Congress last year that "the Chinese government could use [TikTok] to control data collection on millions of users or control the recommendation algorithm, which could be used for influence operations."
The Chinese government and TikTok have repeatedly denied using the app for surveillance or intelligence-gathering purposes.
The Canadian government announced on Monday that it too would ban TikTok from government devices, and both bans came several days after the European Commission ordered its employees to uninstall TikTok from work devices.
You can share this story on social media: