US 'quadrupling' number of troops in Taiwan – WSJ
Up to 200 soldiers will reportedly head to the island to train its military against a hypothetical "Chinese invasion"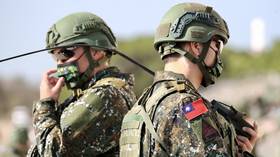 Washington is planning to send between 100 and 200 troops to Taiwan "in the coming months," the Wall Street Journal reported on Thursday, citing anonymous officials. The personnel will be tasked with training the Taiwanese military against what was described as a "rising threat from China."
The deployment will more than quadruple the US military presence on the island, according to the Journal. According to the Pentagon's Defense Manpower Data Center, there were 23 American soldiers in Taiwan as of autumn 2022.
These Americans have been acting as advisers and trainers for the US weapons and equipment sent to Taipei. The new troops will also train the Taiwanese in tactics "to protect against a potential Chinese offensive," according to unnamed US officials.
There were also Taiwanese troops in the US, with "a contingent" training alongside the Michigan National Guard in the north of that state, the Journal reported. When reached for comment, the Pentagon said only that the US "commitment to Taiwan is rock-solid."
"We don't have a comment on specific operations, engagements, or training, but I would highlight that our support for, and defense relationship with, Taiwan remains aligned against the current threat posed by the People's Republic of China," Army Lieutenant Colonel Marty Meiners, a Pentagon spokesman, told the Journal.
The expanded training is intended to "thwart a possible invasion by China," and has been planned for months, long before this month's incident with the Chinese "spy balloon," officials who spoke to the Journal said. They also don't believe it amounts to "anywhere close to a tipping point" for Beijing.
"One of the difficult things to determine is what really is objectionable to China," one official said.
China has repeatedly warned the US against arming Taiwan and warned Washington to abide by the treaties and agreements governing their relationship. The US used to recognize Taipei as the "Republic of China" but switched that recognition to Beijing in 1978, adopting a One-China policy.
Taiwan has been a point of contention between China and the US since 1949, when the Communists won the civil war against the Kuomintang. The Americans helped evacuate the defeated nationalists to the island, which was liberated in 1945 from 50 years of Japanese rule.
The People's Republic of China has pointed to Taiwan's status as Chinese territory for over 200 years before it was ceded to Japan as a war trophy in 1895. Beijing seeks to reunite what it calls a renegade island with the mainland, preferably by peaceful means.
You can share this story on social media: