US governor blacklists major outlet over 'blatant lie'
Florida's Ron DeSantis says he will boycott NBC until the network starts telling the truth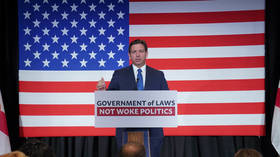 Florida Governor Ron DeSantis took an unusual step on Wednesday, informing NBC and MSNBC that he will ignore them until he receives an apology for being falsely accused of racism.
"There will be no consideration of anything related to NBC Universal or its affiliates until and at least Andrea Mitchell corrects the blatant lie she made about the governor… and NBC and its affiliates display a consistent track record of truthful reporting," DeSantis' press secretary, Bryan Griffin, said in a statement.
NBC and its affiliates also need to "display a consistent track record of truthful reporting," Griffin added.
During an interview with Vice President Kamala Harris, which aired on 'MSNBC Reports' last week, Mitchell claimed DeSantis "says that slavery and the aftermath of slavery should not be taught to Florida schoolchildren" and accused him of being ignorant of "Black history and the Black experience."
Reacting to Mitchell's interview, Griffin called it "shameful."
"This question from [Mitchell] exemplifies everything wrong with corporate media. They're not accidentally terrible at their jobs – they're maliciously intent on deceiving people," he tweeted on Friday. "[DeSantis] never said this, and Florida has extensive black history requirements."
So far, according to the governor's office, neither Mitchell nor her network have apologized or retracted the claim.
First elected in 2018 after a term in Congress, DeSantis gained prominence during the Covid-19 pandemic by pushing back on lockdowns and mandates, and declaring Florida would be a free state, not a "biomedical security" state.
Since then, he has also sought to ban what he dubbed racial and gender indoctrination programs, drawing denunciations from Democrats. His parental rights bill banning the promotion of gender identity to preschoolers was denounced by Democrats as the 'Don't Say Gay' bill, a label then picked up by most US media outlets.
Earlier this week, National Public Radio criticized DeSantis for banning "gender-affirming" procedures, using the example of a 13-year-old who wanted puberty blockers. Speaking for the governor, Griffin denounced NPR as a "publicly funded propaganda machine" and said Florida refuses to "bow to a radical minority" and intends to "stand for protecting our children and protecting their innocence."
Though DeSantis has not announced his intent to run for the Republican presidential nomination in 2024, a faction within the party has argued for him as an alternative to former President Donald Trump. The Democrats' biggest donor, George Soros, has expressed hope that a DeSantis-Trump split might destroy the Republican Party.
You can share this story on social media: