Soros makes US election prediction
The billionaire activist has called Donald Trump a "pitiful figure" who could trigger the collapse of the Republican party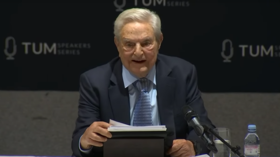 Billionaire political activist George Soros has said he's rooting for the 2024 Republican presidential race to come down to a slugfest between former President Donald Trump and Florida Governor Ron DeSantis – a battle that he sees leading to the party's collapse.
"Trump has turned into a pitiful figure continually bemoaning his loss in 2020," the Hungarian tycoon said on Thursday at the Munich Security Conference. "Big Republican donors are abandoning him in droves. DeSantis is shrewd, ruthless and ambitious. He is likely to be the Republican candidate."
Soros, the largest donor to Democratic Party candidates in the 2022 election cycle, said a DeSantis victory in 2024 could lead to disaster for Republicans. "This could induce Trump, whose narcissism has turned into a disease, to run as a third-party candidate. This would lead to a Democratic landslide and force the Republican party to reform itself."
While Soros jokingly acknowledged that he may be "just a little bit biased" against Republicans, the election scenario that he hopes to see play out probably isn't far-fetched. Support for Trump among Republican voters has declined in the wake of the 2022 congressional midterms, in which candidates endorsed by the former president fared worse than expected. DeSantis, who won re-election as governor by a historic margin and led a Republican ticket in which Florida candidates helped the party win back control of Congress, is currently polling ahead of Trump as the GOP's leading 2024 candidate.
The governor has not officially entered the presidential race, but Trump has already begun taking shots, nicknaming him "Ron DeSanctimonious" and accusing DeSantis of being a "RINO globalist." Trump even amplified a social media post alleging that DeSantis was "grooming high school girls" during his short stint working as a teacher decades ago.
Trump reportedly threatened in 2021 to create his own political party, and he hinted in December that might run in 2024 as a third-party candidate if Republican leaders didn't support him sufficiently. As Soros speculated, such a candidacy would likely ensure victory for the Democrat candidate because Trump and the Republican nominee would split conservative votes.
You can share this story on social media: