DeSantis takes aim at Biden over Ukraine
The US president's administration has no strategic objective in Ukraine, the Florida governor says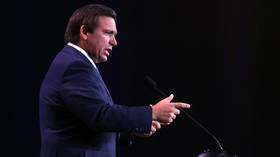 Joe Biden is pursuing a 'blank check' policy towards Ukraine, while turning a blind eye to the most pressing issues in America, Florida Governor Ron DeSantis has said, commenting on the US president's surprise visit to Kiev on Monday.
"We have a lot of problems accumulating here in our own country that he [Biden] is neglecting," DeSantis told Fox News' 'Fox & Friends' several hours after the US leader arrived in the Ukrainian capital.
"He's very concerned about those borders halfway around the world [in Ukraine]. He's not done anything to secure our own border [with Mexico] here at home," said DeSantis, who some believe is preparing to run for president in 2024. He also called out Biden for the "national humiliation" of "having China fly a spy balloon clear across the continental US."
On the topic of America's military support for Ukraine amid the conflict with Russia, the governor insisted that the Biden administration has "effectively [given Kiev] a blank check with no clear strategic objective identified."
"I don't think that it's in our interest to be getting into a proxy war… over things like the [Ukrainian] borderlands or over Crimea," DeSantis said.
While Russia is "hostile" to the US, it does not pose the same level of threat to the US as China does, according to the governor.
"The fear of Russia going into NATO countries and all that, and steamrolling, you know, that has not even come close to happening," he said, referring to Western claims that Russia plans to invade NATO nations.
DeSantis claimed that the conflict in Ukraine would not have broken out in the first place if not for "the weakness that the president showed during his first year in office." DeSantis is expected by many to be Donald Trump's main rival for the Republican presidential nomination next year.
During his trip to Kiev, which lasted just five hours, Biden once again assured his Ukrainian counterpart, Vladimir Zelensky, of Washington's support and pledged another $500 million in lethal aid to his government.
Russian President Vladimir Putin, who delivered an address to the Federal Assembly on Tuesday, warned the West against supplying longer range weapons to Kiev. If this happens, Russia's forces will have to move deeper into Ukrainian territory "to push the threat away from our borders," he explained.
You can share this story on social media: