US 'notified' Russia before Biden's Kiev visit
The decision to inform Moscow was made for "deconfliction purposes," Washington said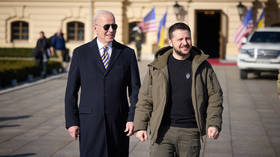 The US told Moscow in advance that President Joe Biden was planning to visit Kiev, National Security Advisor Jake Sullivan said on Monday. The American leader had previously stated he would visit Poland, but not Ukraine.
"We did notify the Russians that President Biden would be traveling to Kiev," Sullivan said, adding that the message was sent "hours before" Biden departed Washington and was provided "for deconfliction purposes." Sullivan did not indicate how Russian officials were contacted, or how they responded to the information.
Former Russian President Dmitry Medvedev, who is deputy chairman of the Security Council, confirmed via his Telegram channel that Biden had received "safety guarantees" from Moscow for his visit. In the same post, Medvedev called Washington's aid to Kiev a way for "NATO countries' military industries to profit," and referred to the US president as an "old man from across the ocean."
Biden made the surprise trip to Kiev on Monday, in his first visit to the country as president. He met his Ukrainian counterpart Vladimir Zelensky and the pair visited the Mikhailovsky Cathedral. Despite the forewarning and apparent guarantees from Russia, air raid sirens were heard in the city. However, there were no reports of Russian strikes and the sirens did not cause alarm to Biden or Zelensky, according to AFP.
Speaking at a press conference, Biden pledged another $500 million in US military aid to Ukraine, saying more "critical equipment, including artillery ammunition, anti-armor systems, and air surveillance radars" would be on the way. Russia has maintained that sending more weapons will not change the course of the conflict, and will instead prolong the suffering of the people.
You can share this story on social media: