Joe Biden arrives in Ukraine
The US president has previously ruled out such a visit, saying he will travel to Poland but would not go further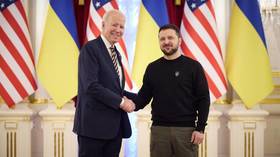 US President Joe Biden arrived in Ukraine on Monday, making his first visit since Moscow launched its military operation in the neighboring state nearly a year ago.
Biden has met with Ukrainian President Vladimir Zelensky in the Mikhailovsky Cathedral in Kiev. Ukrainian news organizations published photos and video showing Biden and Zelensky walking towards the church flanked by armed security.
Biden said he was meeting with Zelensky to "reaffirm our unwavering and unflagging commitment to Ukraine's democracy, sovereignty, and territorial integrity," according to the statement released by the White House.
The US president added that he would announce a new delivery of "critical equipment" for the Ukrainian army, including artillery rounds, anti-tank systems, and radars. "Later this week, we will announce additional sanctions against elites and companies that are trying to evade or backfill Russia's war machine," Biden said.
According to Reuters, air raid sirens were heard in Kiev during Biden's trip, but there were no reports of Russian strikes.
The trip takes place as the US and other NATO members are ramping up military aid to Ukraine, having recently pledged the transfer of modern main battle tanks and other additional heavy weapons.
Biden ruled out traveling to Ukraine earlier this month, saying that he only had plans to go to Poland.
Russia sent troops to Ukraine last February, citing the need to protect the people of Donbass and Kiev's failure to implement the 2014-2015 peace accords. The US has since then been one of Ukraine's primary backers in the conflict.
According to the Pentagon, Washington provided Kiev with more than $27.4 billion in security aid between February 24, 2022 and January 20, 2023. The delivered weapons include HIMARS multiple rocket launchers, M777 howitzers, shoulder-fired anti-tank systems, and combat drones. The US has also pledged to transfer Bradley Fighting Vehicles and M1 Abrams tanks, and has been training Ukrainian soldiers.
Russia maintains that the "flooding" of Ukraine with weapons will not change the course of the conflict and only leads to more casualties. The Kremlin has warned that the Western-supplied equipment would be treated as legitimate targets for Russian troops.
Russian President Vladimir Putin said in the past that sanctions have failed to bring down the country's economy and that Moscow has managed to adapt to restrictions.
Moscow has repeatedly accused Ukraine of using Western arms to kill civilians. Aleksandr Bastrykin, the head of Russia's Investigative Committee, told TASS news agency on Monday that around 5,000 people have been killed in Donbass since 2014 and nearly 9,000 wounded. Overall, more than 120,000 people were identified as victims of the crimes committed by Ukrainian forces, Bastrykin claimed.
You can share this story on social media: