Zelensky changes stance on key battle in Donbass
Kiev's forces will only fight for Artyomovsk/Bakhmut while it remains reasonable, the Ukrainian leader says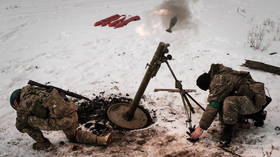 Ukrainian President Vladimir Zelensky has acknowledged that while the key Donbass town of Artyomovsk, which Ukraine calls Bakhmut, is important to Kiev, it is not worth defending at all costs.
Earlier this month, Zelensky insisted that "nobody is going to surrender Bakhmut. We'll fight as long as we can."
However, he gave a different account when asked whether it was worth losing men to maintain control of the strategic settlement during an interview with Italy's Corriere della Sera newspaper on Sunday.
"For us it's important to defend it, but not at any price and not until everybody dies. We'll fight while it remains reasonable," the Ukrainian leader replied.
Trying to hold on to Artyomovsk is crucial because "the Russians want to continue towards [the bigger cities of] Kramatorsk and Slavyansk, to the borders of Donbass and to Dnepr," he explained.
"We resist and, in the meantime prepare, our next counterattack," Zelensky said.
Artyomovsk is a major Ukrainian stronghold and logistics hub in the People's Republic of Donetsk (DPR). The key town is now on the brink of being encircled by Russian forces after a battle that lasted for months and had been described by Zelensky himself as "hell" for Kiev's troops.
According to Western media reports, the US government, which promised to support Ukraine for "as long as it takes," has been urging Kiev to withdraw from Artyomovsk since late January and instead prepare for future counteroffensives in other areas. However, Zelensky has been reluctant to comply with the American requests. Senior Biden administration officials told the Washington Post last week that the Ukrainian leader "attaches symbolic importance" to the town and fears a setback to morale if it's surrendered.
Yan Gagin, an adviser to the DPR's acting head Denis Pushilin, said on Monday that the Ukrainians were clinging onto Artyomovsk because other settlements in the area lacked proper fortifications. "They didn't think that they would have to retreat," he explained. The nearby town of Chasov Yar, where Ukrainian commanding officers have already been moved, is currently unprepared to resist a Russian advance, according to Gagin.
You can share this story on social media: