Russian spring offensive has already begun – Zelensky
The Ukrainian president has reiterated calls for more weapons from the West in a UK state TV broadcast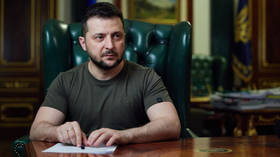 Ukrainian President Vladimir Zelensky has vowed that his country will not make any territorial concessions or compromises with Russia as Moscow has allegedly already launched its predicted spring offensive. Speaking to the BBC on Thursday, he stated that "Russian attacks are already underway in several directions."
Zelensky noted that Kiev's forces will hold back Moscow's attacks until they are able to launch their own counter-offensive. To that end, he reiterated his pleas for more Western arms, explaining to the British state broadcaster that "weapons are the only language that Russia understands."
The president went on to stress that Ukraine wanted security guarantees and that any territorial compromises would "weaken" his country. He also insisted that Kiev would never make any deal with Putin because "there is no faith."
Zelenksy's comments come as Pentagon officials have also reported that Russia has been sending a large number of additional troops into the combat zone. US Defense Secretary Lloyd Austin stated on Thursday that Russia's forces have increased artillery fire in the area of Artyomovsk/Bakhmut - a key city in the Donetsk region that has seen some of the most intense fighting in recent months.
Zelensky has repeatedly insisted that the Ukrainian Armed Forces would not surrender the city and would fight for it as much as they could, despite the US allegedly advising Kiev against making such an unnecessary sacrifice.
Senior US officials, meanwhile, have warned that Ukraine has a diminishing window of opportunity to make territorial gains against Russia before Western military aid runs dry, the Washington Post reported earlier this week.
Moscow, in turn, has pointed out that the ongoing conflict with Kiev is essentially the West's "war against Russia" that uses the Ukrainian people as cannon fodder and has accused Ukraine's Western backers of intentionally derailing peace talks in the early weeks of the conflict.
"US neo-liberals have destroyed Ukraine and are exterminating the Ukrainian people. American hegemonic ambition leads to a colossal loss of life," Russian Foreign Ministry spokeswoman Maria Zakharova stated on Tuesday.
You can share this story on social media: