No military winner likely in Ukraine conflict – top US general
Mark Milley talked to the FT after traveling to Brussels to coordinate NATO efforts on shoring up Kiev's firepower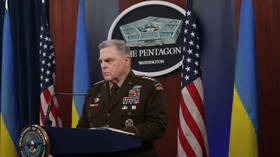 The Ukraine conflict can only end through a negotiated peace deal because neither side is likely to achieve its goals on the battlefield, US Chairman of the Joint Chiefs of Staff Mark Milley said in an interview with the Financial Times published on Thursday.
"It will be almost impossible for the Russians to achieve their political objectives by military means," Milley claimed without providing specific reasons for his stance. "It is unlikely that Russia is going to overrun Ukraine. It's just not going to happen." He added that it also would be "very, very difficult for Ukraine this year to kick the Russians out of every inch" of the territory that Moscow's forces have already captured.
America's top-ranking military officer made his comments after traveling to Brussels earlier this week to coordinate efforts with NATO allies on shoring up Ukraine's firepower for a planned spring counter-offensive. Kiev is burning through weaponry at a rate "many times higher" than its Western allies can produce it, NATO Secretary General Jens Stoltenberg warned on Monday.
Milley said the ammunition strain has forced the Pentagon to review its weapons inventories and contemplate increases in spending. US officials are re-examining their assumptions about supply needs after decades of focusing on counterterrorism missions and unconventional warfare.
"One of the lessons of this war is the very high consumption rates of conventional munitions, and we are re-examining our own stockages and our own plans to make sure that we got it right," Milley told FT. "We're trying to do the analysis so that we can then estimate what we think the true requirement would be, and then we have to put that in the budget. Ammunition is very expensive."
The Pentagon's current annual budget stands at $817 billion, exceeding the combined total for the rest of the world's ten largest military spenders combined. Washington has already allocated more than $110 billion in aid for Ukraine since Russia's military operation began last February.
Republican lawmakers, such as Representatives Matt Gaetz of Florida and Andy Biggs of Arizona, have criticized President Joe Biden's administration for severely depleting US weapons stockpiles to arm Ukraine.
Earlier this week, Milley told reporters in Brussels that Russia has already lost. "They've lost strategically, operationally and tactically, and they are paying an enormous price on the battlefield."
Retired US Army Colonel Douglas MacGregor, a former Pentagon adviser, said such claims have eroded the Biden administration's credibility. "General Milley has made it very clear that he's aligned with the left, he is part of this administration, he's going to say whatever they want him to say."
You can share this story on social media: