NATO sounds alarm over Ukraine's ammunition consumption
The US-led bloc needs to increase production to keep up, Jens Stoltenberg has said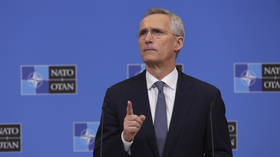 Ukraine is consuming an "enormous amount" of ammunition, and the West needs to boost production to keep up, NATO Secretary General Jens Stoltenberg told reporters on Monday. Stoltenberg also called on the bloc's members to increase their intelligence efforts, accusing China and Russia of spying on them with balloons.
"The war in Ukraine is consuming an enormous amount of ammunition," he said ahead of a meeting of NATO defense ministers in Brussels. "This puts our defense industries under strain," he continued, adding that "we need to ramp up production and invest in our production capacities."
Stoltenberg then pledged, as he has repeatedly since Russia's military operation in Ukraine began, that "NATO stands with Ukraine for as long as it takes."
"Standing with Ukraine" has proven costly for NATO, particularly its European members. After decades of underinvestment, the German military rapidly emptied its stockpiles for Ukraine and reportedly has only enough ammunition for two days of warfare. Furthermore, Berlin will not be able to send its full complement of 187 Leopard 1 tanks to Kiev until refurbishment is complete in 2024, and even then, reports suggest that ammunition for these tanks is in short supply.
The situation in the UK is similar, with the British Army reportedly having just enough ammunition for days or even hours of full-scale fighting. Meanwhile, multiple European nations have walked back promises of tanks for Ukraine, citing shortages and the vehicles' state of disrepair.
Stoltenberg has repeatedly called on NATO members to boost arms and ammo production since the conflict in Ukraine began. On Monday, however, he also urged them to increase their intelligence gathering and sharing capacities, claiming that China and Russia are "increasing their intelligence and surveillance activities against NATO allies."
The NATO chief claimed that both nations are using "balloons" to spy on the West, referring to four aircraft shot down over the US and Canada in recent days. One of these airships came from China, while the origin of the other three is unclear. US authorities have not linked any of the four to Russia, and Beijing insists that the first was a "civilian airship" that veered off course.
Moscow has repeatedly warned the West against sending weapons to Ukraine, arguing that continued arms deliveries will prolong the bloodshed without changing the conflict's outcome.
You can share this story on social media: