British military 'stretched' by effort to arm Ukraine – media
NATO leadership doubts the UK's ability to lead its rapid-reaction force, the Daily Mail reported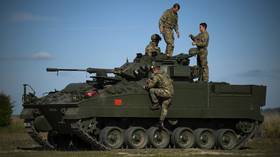 The UK's armed forces have "serious problems" with manpower, ammunition, and equipment, the Daily Mail reported on Sunday. With its stocks depleted and sent to Ukraine, a number of recent reports suggest that the British army would run out of ammo within days or hours of combat starting.
"There are serious problems with ammunition shortages and other kit which is partly due to underspending, but also because of the amount of ammo and other ordnance we are supplying to Ukraine," an unnamed source at the Ministry of Defence told the newspaper. "Our forces are also stretched because of the extent to which they are training Ukrainian forces."
The UK is the largest supplier of military aid to Ukraine after the United States, with London committing £2.3 billion ($2.77 billion) to Kiev's forces last year. Britain has trained around 10,000 Ukrainian soldiers, and plans to train another 20,000 – plus pilots – this year, according to government figures. Meanwhile Prime Minister Rishi Sunak recently announced that the UK would send 14 Challenger 2 main battle tanks to Ukraine, along with the country's entire stock of AS90 artillery guns.
All of this is happening at a time when the army fields less than half as many troops (73,000) as it did in the early 1980s (163,200), and a fifth as many main battle tanks (227 to 1,200).
Britain is due to take over the rotating leadership of NATO's Very High Readiness Joint Task Force (VJTF) from Germany in 2024. However, according to a German report cited by the Daily Mail, NATO chiefs have asked Berlin to remain in charge, as the UK reportedly cannot spare the 5,000 troops necessary for the role.
The Mail's article is the latest in a long line of similar reports criticizing Britain's lack of military readiness. A former commander warned earlier this month that the UK could deplete its ammunition stocks in a single afternoon of large-scale fighting, while defense sources told Sky News last week that supplies would last "a few days," and that it would take the Ministry of Defence a decade to put together "a modern warfighting division."
You can share this story on social media: