UK military running out of money and ammo – media
Britain is "under-delivering" on its NATO commitments, a source told Sky News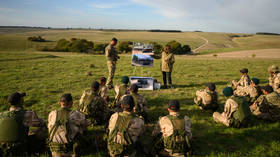 The UK does not have enough money to fulfill its military commitments after digging deep into its stockpiles to fund and equip the Ukrainian war effort, unnamed defense sources told Sky News on Monday.
Britain's self-defense is in jeopardy because the government is giving away critical military assets to Kiev, including tanks and artillery, sources warned, explaining that "it is no good having a small number of high-end, exquisite platforms when you have not got capacity around it."
Prime Minister Rishi Sunak recently promised Ukraine 14 Challenger 2 main battle tanks and 30 AS90 artillery guns – the remainder of the British army's artillery stocks – leaving the home front vulnerable, according to the sources.
While Sunak inherited a "refresh" of defense policy formulated in 2021, prioritizing investment in high-tech submarines and the development of a new fighter jet, the sources who spoke to Sky argued this plan ignores the military's immediate needs — a lack of ammunition, artillery, and missile defense systems.
The sources said they had already urged the Treasury to add £3 billion annually to the defense budget and ease restrictions on arms procurement, but Chancellor Jeremy Hunt was playing "hard ball."
"[The Treasury] recognize[s] the threats. They recognize the pressure defense is under from inflation, the nuclear deterrent, stockpiles, and Ukraine. But despite recognizing the threats and the pressure, they say there is no more money," one source told Sky.
Making matters worse, the government is actually cutting the size of the military from 82,000 to 73,000 troops. London will thus only be "credibly" able to supply a brigade, numbering between 5,000 and 10,000 soldiers plus supporting equipment, to a new NATO force that would normally expect three to six times that number from a major bloc power such as the UK.
Retired General Richard Barrons warned earlier this month in an op-ed that the country's army had been so "hollowed out by spending cuts" that it could run out of ammunition "in a busy afternoon" and was by no means prepared to withstand a "surprise attack."
Sky's insiders at the Ministry of Defence confirmed the military would "already run out of ammunition within a few days if called upon to fight" and warned that putting together a "modern warfighting division of some 25,000 to 30,000 troops" would take "up to ten years."
You can share this story on social media: