Much-hyped tanks for Ukraine in short supply – WSJ
European NATO members are "dragging their feet" on sending Leopards to Kiev, the outlet says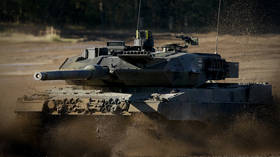 NATO members have developed "sudden misgivings" about sending tanks to Ukraine because they don't seem to have any to spare, the Wall Street Journal reported on Thursday. Finland, which pressured Germany to approve exports of Leopard 2 tanks, may only be able to send "a few" of its own – and most likely not until it formally joins the US-led military bloc.
This has left Berlin as the only major supplier of tanks to Kiev, something Chancellor Olaf Scholz had been keen to avoid, the Journal noted.
There are more than 2,000 Leopard 2 tanks in the stocks of various European NATO armies, but only Berlin and Warsaw have committed to sending any. Germany and Poland have promised about 14 apiece. Warsaw will also throw in 60 of its modified T-72s, while Berlin is buying up almost 190 decommissioned Leopard 1s for refurbishment, some of which may need to be cannibalized for parts.
In a December interview, Ukraine's top general asked for 300 tanks right away. Canada has promised four tanks, while Portugal wants to send three.
"The fact that there are so few operational battle tanks and that they are so incompatible with each other should be taken as an alarm signal in Europe," Nico Lange, a former German defense official who is now a senior fellow at the Munich Security Conference, told the Journal.
The Netherlands and Denmark will not send any of their tanks, but agreed to help Germany fund the purchase and refurbishment of around 100 older Leopard 1 models, which were retired 20 years ago and are currently in various states of disrepair.
Denmark only has 44 Leopards and the Dutch operate 18 that are on lease from Germany, noted Minna Alander of the Finnish Institute of International Affairs. Finland faces a different "limitation" due to its own need to protect the country's long border with Russia, she added.
Finland will be "part of the Leopard 2 cooperation in some way," an anonymous senior official told the Journal, but declined to give any details. Helsinki has "signaled" it would "most likely" avoid tank deliveries until it officially joins NATO, according to a senior bloc official, likewise unnamed. Even then, it may only be able to spare a few of its 240 operational tanks.
The UK has promised 14 of its Challenger 2 tanks, saying they ought to be delivered by the end of March. The US pledged 31 Abrams tanks as well, but getting them to Ukraine might take up to two years. Ukrainian President Vladimir Zelensky has already moved on, demanding fighter jets on his trip to London, Paris and Brussels.
The US and its allies have spent over $120 billion to prop up the Kiev government over the past year, while insisting they are not a party to the conflict. Moscow has warned them that supplying Ukraine with weapons only prolongs the fighting and risks direct confrontation.
You can share this story on social media: