Poland expands offer of tanks for Ukraine
Warsaw's help will not be limited to Leopard 2s, PM Mateusz Morawiecki has said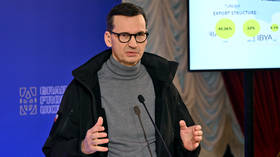 Poland is ready to send 60 more tanks to Ukraine to help fight Russia, besides the 14 German-made Leopard 2 vehicles already pledged, Polish Prime Minister Mateusz Morawiecki has said.
"If we don't want Ukraine to be defeated, we have to be very much open and brave in supporting Ukraine," Morawiecki told Canada's CTV News broadcaster on Friday.
According to the prime minister, Poland is trying "to lead by example," showing its allies what should be done to help Kiev.
"Right now, we are ready to send 60 of our modernized tanks, 30 of them PT-91. And on top of those tanks, 14 tanks, Leopard 2 tanks, from in our possession," he said.
Morawiecki also noted that last year Warsaw provided about 250 of its modernized Soviet-era T-72 tanks to the Ukrainian military.
Mikhail Podolyak, an adviser to Ukraine's President Vladimir Zelensky, confirmed on Telegram on Friday that 60 more Polish tanks will be heading Ukraine's way. According to Podolyak, the shipment consists of PT-91 Twardys, upgraded Soviet T-72M1 main battle tanks. "Thanks to our allies," he wrote.
Morawiecki did not specify when the additional tanks will be supplied.
On Thursday, Poland's Deputy Defense Minister Wojciech Skurkiewicz said Warsaw plans to provide 14 Leopard 2s to Kiev after Ukrainian troops finish training with them, which could happen in "several weeks."
The delivery of Leopard 2s by Poland to Ukraine became possible on Wednesday after Germany officially approved the supply of 14 tanks from its own stocks to Kiev, and allowed other countries to re-export the German-made weaponry to the Zelensky government.
On the same day, the US agreed to supply Kiev with 31 of its M1 Abrams main battle tanks. Earlier this month, the planned delivery of Challenger 2 tanks to Ukraine was announced by the UK.
Russia's deputy envoy to the Organization for Security and Co-operation in Europe, Maksim Buyakevich, warned on Thursday that arming the Ukrainian military with Western tanks "is a straight path into a full-blown conflict in Europe."
Earlier this month, Kremlin Press Secretary Dmitry Peskov insisted that German, US and British military hardware will not change the outcome of the conflict, and that the tanks will "burn" if they arrive on the battlefield.
You can share this story on social media: