Backlog of orders may delay Abrams tanks for Ukraine – Politico
Questions remain over when American armor can be delivered to Kiev, the outlet says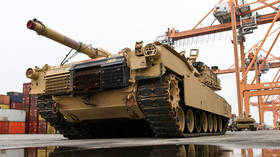 It's unclear when Ukraine will receive Abrams tanks from Washington as the only plant in America that produces the armor has a backlog of orders from US allies, Politico has reported.
The facility in Lima, Ohio, which is operated by General Dynamics, has to produce hundreds of tanks for Poland and Taiwan before it can start working on 31 units that the Biden administration promised to Kiev earlier this week, the outlet pointed out in an article on Thursday.
Warsaw is expecting to receive 250 modified A2-type M1 Abrams tanks starting from 2025. The Polish government gave 250 of its Soviet-era T-72 tanks to Kiev last year amid the conflict with Russia. Currently, the US is shipping 116 M1A1 tanks, recently retired by the Marine Corps, to Poland as an emergency replacement for its stock of armor.
Taipei also ordered 108 M1A2 tanks back in 2019, with the first deliveries planned to begin next year.
Considering the importance of Washington's relations with both Poland and Taiwan, those orders "would be difficult and likely controversial to put on the backburner," Politico wrote.
The plant in Lima doesn't build Abrams tanks from scratch anymore, but modifies the so-called "M1 seed vehicles," installing new technology on them. But it can still only produce 12 such vehicles per month, it added.
The tanks for Ukraine won't be coming from the US' own stocks, but will instead be purchased from the industry and refurbished at the facility in Ohio, meaning "they won't arrive on the battlefield for many months, or potentially years, given industrial constraints in upgrading them," the outlet reported.
An unnamed official also told Politico that the tanks Ukraine will be receiving will be the A2 version, which has improved optics and control systems. However, they'll be deprived of classified armor packages with depleted uranium that are being used by the US military, the official added.
Germany said on Thursday that 14 of its Leopard main battle tanks are expected to arrive in Ukraine in late March. The UK, which promised 14 British-made Challenger 2 tanks to Kiev, announced a similar timeline.
Kremlin Press Secretary Dmitry Peskov said the planned deliveries of tanks were viewed in Moscow as "direct involvement" of NATO in the conflict in Ukraine. "And this involvement is growing," he added.
Earlier this month, Peskov insisted that Western armor won't change the outcome of the fighting and that the tanks will "burn" if they arrive on the battlefield.
You can share this story on social media: