No joy over tank supplies to Ukraine – German defense minister
Few issues have caused such division in the country in recent decades, Boris Pistorius has admitted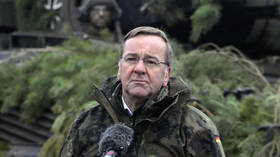 German Defense Minister Boris Pistorius has said he can't understand those who are celebrating Berlin's decision to send modern Leopard 2 tanks to Kiev. Nothing is joyful about "war," he told journalists on Thursday.
Few issues have caused such differences of opinion within German society, the minister admitted, adding that this "shows how difficult… such a decision is." Pistorius said he "totally sympathizes" with those who are concerned about "delivering tanks to a war zone."
"I have little sympathy for those who would gladly shout 'Hallelujah' over [the fact] that there are tank deliveries," the minister said, adding that "there is no reason for that." "We are talking about a war and nothing about it is pleasant."
His comments came as he announced that the tanks Berlin pledged to Kiev earlier this week would most likely arrive in Ukraine in late March or early April. Berlin vowed to provide a company-sized tank force from Bundeswehr stocks, comprising 14 Leopard 2A6 tanks – one of the latest versions of the combat vehicle. Germany also said it would allow other nations with German-made heavy equipment in stock to send them to Ukraine as well.
Speaking to journalists on Thursday during a visit to a military base in Saxony-Anhalt, Pistorius also brushed off criticism that Berlin had waited too long to send tanks to Kiev.
"We did not hesitate. We negotiated. We talked to our allies, we talked to our partners and friends about what is the best thing to do now," he said, describing it as a "matter of war" and a "matter of trust."
"I think that everybody should be satisfied with this decision because we do what is necessary," Pistorius said, adding that he believes the tanks would get to Ukraine "early enough."
On Wednesday, the US also announced plans to send 31 of its M1 Abrams tanks to Ukraine. Russia responded to the development by saying that tank deliveries by Western nations suggested that NATO's "direct involvement" in the conflict in Ukraine was "growing." Moscow has repeatedly warned that the West's continued arms supplies to Kiev risk a direct confrontation between NATO and Russia.
You can share this story on social media: