Germany reveals timeline for Leopard 2 delivery to Ukraine
The armor long demanded by Kiev will arrive "early enough," German Defense Minister Boris Pistorius says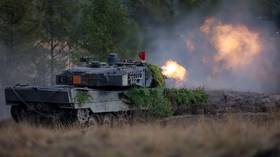 The Ukrainian military will be boosted by Leopard 2 main battle tanks by the end of March at the latest, Germany's new defense minister Boris Pistorius has promised.
He made the statement on Thursday as he visited German troops in the central state of Saxony-Anhalt.
Journalists asked the minister if he was concerned that the delivery of German-made Leopard 2s would come too late for Ukraine in light of suggestions that Russia may be planning a spring offensive.
"I don't have any hints that it could be too late. I think we will deliver our Leopards the latest, maybe, at the end of March," Pistorius replied, adding that he believed this would be "early enough."
The supply of German tanks is "a very important measure to improve the Ukrainians' defense integrity; to [make them] fight successfully against the Russian troops," he stated.
Despite ruling out such a possibility for months, Germany on Wednesday officially approved the supply of 14 Leopard 2A6 tanks from its own stock to Kiev. Berlin also said that it will allow other countries provide the German-made armor.
The German announcement came several hours before the US approved delivery of 31 of its M1 Abrams tanks to Ukraine. The pledge was made by the Biden administration despite the Pentagon having previously stated that Abrams tanks were inappropriate for the conflict between Kiev and Moscow, as they were difficult to maintain, ran on jet fuel and required extensive training to operate.
According to media reports, at a high-profile meeting of Ukraine's backers at the Ramstein US Air Base in Germany earlier this month, Berlin insisted that it would only send its armor to Ukraine if Washington does the same.
The UK was first among Western states to pledge main battle tanks to Kiev, with London announcing in mid-January that it would provide the Zelensky government with 14 of its Challenger 2s.
On Thursday, Poland's Deputy Defense Minister Wojciech Skurkiewicz told Radio Plus that Warsaw was ready to provide 14 German-made Leopard 2s to Kiev after Ukrainian troops finish training on them, which could happen in "several weeks."
Kremlin press-secretary Dmitry Peskov said that the announced deliveries of tanks by Germany, the US and UK is viewed in Moscow as a "direct involvement" of NATO in the conflict in Ukraine. "And this involvement is growing," he stressed.
Earlier this month, Peskov pointed out that the Western armor won't change the outcome of the fighting and that those tanks will "burn" if they're supplied.
You can share this story on social media: