China vows retaliation over US 'spy balloon' row
Beijing has warned of countermeasures against Washington amid competing claims of espionage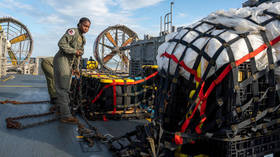 The Chinese Foreign Ministry warned of countermeasures to punish US entities on Wednesday after Washington "overreacted" to an alleged Chinese spy balloon in American airspace by shooting down the unmanned airship and imposing sanctions.
"The US has abused force, overreacted, escalated the situation, and used this as a pretext to illegally sanction Chinese companies and institutions," Foreign Ministry spokesman Wang Wenbin told reporters at a briefing in Beijing. "China is firmly opposed to this and will take countermeasures against relevant US entities that undermine China's sovereignty and security in accordance with the law."
Wang offered no specifics on what retaliatory measures are planned. He made his comments after Washington added six Chinese entities with alleged links to China's supposed spy balloon program to an export blacklist.
Chinese officials have claimed that the balloon that crossed North America earlier this month was an unmanned civilian airship that was blown off course and inadvertently entered US airspace. A US Air Force fighter jet shot down the balloon on February 4 off the coast of South Carolina. Days later, President Joe Biden's administration claimed that the flight was part of a Chinese spying program that has targeted more than 40 countries.
Beijing has denied those allegations and countered that the US routinely sends spy balloons over China. Wang said Washington has flown high-altitude balloons over Chinese airspace more than 10 times since May 2022, including flights over its Xinjiang and Tibet regions.
Asked about allegations that Chinese propagandists had tried to distract from questions about high-altitude surveillance by exaggerating a recent Ohio train derailment and promoting a claim that US forces blew up Russia's Nord Stream pipelines, Wang suggested that Washington is the one trying to deflect people's attention.
Western media outlets, which previously speculated that Russia sabotaged its own pipelines, were silent after US journalist Seymour Hersh reported last week that Biden's administration was behind the Nord Stream bombing, Wang said. He added that many Americans are questioning why the US government and media are "glossing over" the train derailment while continuing to hype the balloon incident. "People are questioning, what are they trying to hide?"
The derailment occurred on February 3, one day before the Chinese airship was shot down. The train was hauling dangerous chemicals, including vinyl chloride, which leaked into nearby waterways, reaching the Ohio River and killing wildlife. Officials decided to conduct a "controlled burn" of the chemicals, which ignited into a massive black cloud of toxins that billowed over the area.
You can share this story on social media: